Suv market in Malaysia may had dropped a bit while MPV were selling like hot cakes.If you remember the two top selling SUV in Malaysia last time were the Mitsubishi Pajero and the Toyota Land Cruiser Prado.Recently, Mitsubishi had reproduce their best selling jeep/suv in Malaysia, the Pajero and as featured in this article, Toyota had a plan of their own, a facelifted version of the current Prado.
The refreshed 2010 Toyota Land Cruiser pictures is from a leaked Japanese-market brochure.The facelifted Toyota Land Cruiser Prado gets new sheetmetal all around featuring a restyled front fascia somewhat inspired from Toyota's latest creations like the Avensis along with new tail lamps, bumper and tail gate design at the rear and a smoother profile thanks to the redesigned fenders.
From the brochure, we can see that the interior has been reworked as well.A new instrument panel with two deeply set gauges and a new center console with repositioned air vents.A new four spoke multifunction steering wheel had been installed together with an updated interior trim.
There is no news whether there is changes under the hood or not. But it shouldnt be long before the actual car is released.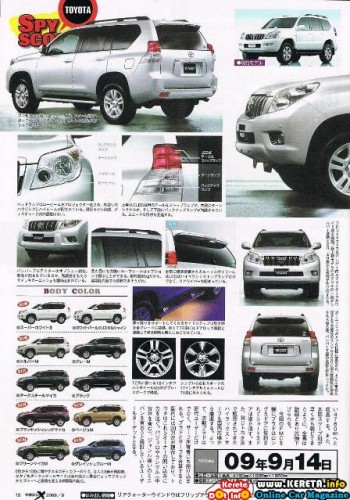 Please follow and like us: