Front bumper with spiltter.
On March 2010, we already posted about the Proton Satria Neo R3 Lotus Racing Edition.But we haven't post about the Proton Satria Neo R3 ClubSport which unveiled in 2008.The R3 ClubSport Neo is an official special edition built by R3 as a road legal race ready car. Only 18 units built and features RM29,000 worth of additional racing parts and enhancements.The final cost of one such unit was a shade under RM75,000.
Cool lowered thanks to full set of adjustable suspension system with  15″ sports rim.
Full set of roll cage with bare floorpan (no carpets), two Recaro seats and Momo steering wheel.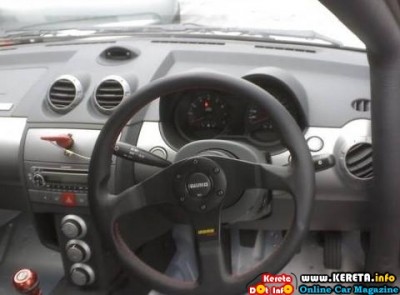 The Neo Clubsport R3 is basically a stripped-down car with no airbags and no ABS.It was prepared by R3 in 2008 for a private race program.
How much power developed by R3 ClubSport Neo?.Using the Campro engine, it only generates 130 horsepower.The additional power and torque figures are the result of work on the intake, exhaust and also ECU.
Please follow and like us: