Zenvo Automotive, a Danish company, has built a new supercar, that at least in official performance figures, is a serious competitor for the Veyron. Called the Zenvo ST1, the new, 100 per cent Danish supercar, is powered by a 7.o liter V8 engine that outputs 1104 hp at 6900 rpm and an unbelievable 1430 Nm of torque at 4500 rpm. The Zenvo ST1 has an electronically limited top speed of 375 km/h and is able to get from 0 to 100 km/h in 3.0 seconds. It's power to weight ratio is 802 hp / tonne. The company did not disclose the fuel consumption and CO2 emissions level of the Zenvo ST1, but with this kind of performance, who cares?
Zenvo Automotive was founded with one goal in mind. To produce a unique hand built supercar. The developing of the prototype started in 2004. The prototype is completed and the car is in the last testing phase. In 2009 Zenvo Automotive will start the series production of the car, Zenvo ST1. It will be a very limited edition and only 15 cars will be built and sold to special approved customers.
The idea behind the car was to hand build a high performance super car which will meet today´s standards but still keep the original and unique feeling of driving a supercar. The car will have excessive power due to both supercharger and turbo, but will still be drivable for everyday use.
The car is 100% build in Denmark and the design is a result of Danish design. The developing and production are taking place in our hyper modern production hall with all the best equipment available. Since we work very tight with most of our partners we try to use local suppliers. This makes us able to communicate better and to follow the developing much closer to obtain the best possible result.
ZENVO ST1 BY ZENVO AUTOMOTIVE SPECIFICATION AND UPDATES – 200KM/H IN 9 SECONDS! ITS A BUGATTI VEYRON COMPETITOR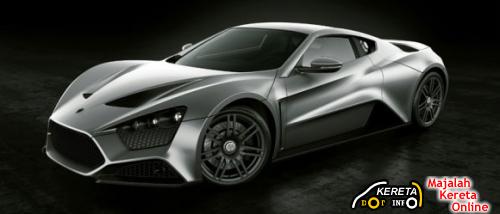 The engine of the Zenvo ST1 is coupled with a rear-wheel-drive system via a 6-speed manual transmission.
The Zenvo ST1 is not a stripped down race car and has all the luxury you would expect from a supercar: Dual zone automatic climate control, a Driver Information Center and cruise control.
The Zenvo ST1 price has not been made public yet.
With supercar startups coming out of the woodwork, it takes a lot to get our attention. Danish company Zenvo Automotive has done just that with the announcement of its newest project, the ST1. With a mid-mounted turbocharged and supercharged 7.0-liter V8 engine (perhaps from Chevrolet?), the ST1 puts out an incredible 1,104 horsepower and funnels it through a six-speed manual gearbox. Attention officially granted.
The project was started back in 2004, and the first cars are — optimistically — planned for delivery in 2009. The first performance tests were completed in October and the rear-wheel-drive ST1 is claimed to have reached 62 mph in what we imagine was a traction-limited 3.2 seconds. The run to 120 was accomplished in just under nine seconds and the top speed is reported to be an electronically limited 233 mph. So a Veyron/Ultimate Aero/GT9/CCX-killer this is not.
The Zenvo ST1 certainly looks unique, with a very geometric appearance, including boomerang-shaped vents adorning the grille, hood and sides. Nothing quite like it is currently rolling on the roads and with just 15 scheduled for production, prospective owners can count on never seeing one in the Whole Foods parking lot.
ZENVO ST1 SUPERCAR BY ZENVO AUTOMOTIVE SPECIFICATION AND UPDATES
Engine and transmission
Number of cylinders  V8 
Displacement (cm3)  7000 
Bore x stroke (mm)  104.8 x 101.6 
Number of valves  16 
Fuel type  Unleaded 98 RON 
Powered axles  RWD 
Transmission 6-speed manual  (internal oil pump) and oil cooler. Hydraulic limit slip diff. 
Performance
Performance (kW/hp/min)  810 / 1104 / 6900 
Max. torque (Nm/min)  1430 / 4500 
Top speed (km/h)  375 (electronically controlled) 
Acceleration 0–100 km/h (s)  3,0 
Hp/weight  802 bhp per tonne 
Fuel consumption (l/100 km urban / extra-urban / combined)  N/A / N/A / N/A 
CO2 emission combined (g/km)  N/A 
Wheels
Rim size (front/rear)  19" x 9.5" / 20" x 12.5" 
Tyre size (front/rear)  255/35–19" (Y) / 335/30–20" (Y) (Michelin) 
Dimension
Overall length (mm)  4665 
Overall width, without mirrors (mm)  2041 
Overall height (mm)  1198 
Wheelbase (mm)  3055 
Weight (kg)  1376 
Headroom front (mm)  1002 
Legroom front (mm)  1104 
Shoulderroom front (mm)  1398 
Cargo volume (L)  130 
Fuel tank volume (L)  69 
Mechanical
Transmission  6-speed manual (internal oil pump) and oil cooler 
Exhaust system  Stainless steel 
Traction control  Yes 
Supercharged  Yes 
Turbo  Yes 
Power steering, speed sensitive  Yes 
Anti-lock high performance disc brakes (ABS)  Yes 
Ground clearance  105mm. (150mm when hydraulic lifted) 
Front and rear suspension  Double wishbones, 3 way adjustable Racing gas-hydraulic shock absorbers. (Öhlins) 
Anti-roll bar  Adjustable 
Front brakes  Ventilated discs Ø 380 mm, 6 piston light alloy callipers. Power assisted 
Rear brakes  Ventilated discs Ø 355 mm, 6 piston light alloy calipers. Power assisted 
Options
Carbon wheels 
394 mm ceramic discs with 8 piston calipers 
Toolkit 
Custom Colour Leather Interior 
Custom Paint Colour 
Fitted Luggage set 
Tailored Car Cover 
Roll Cage and 4 point Safety Harness 
Updates of Zenvo Automotives
06.10.2008 – Performance
Today we started to do some performance test. Please keep in mind that this was the first performance test. We did 0-100 km/h in 3,2 sec and are very close to our goal of 3,0 sec. We did 0-200 km/h in 8,9 sec. For a first test this was acceptable.
22.05.2008 – First real test drive
The first test drive of the prototype was made and everything ran better than expected.
01.03.2008 – Dyno
The prototype is running for the first time on the Dyno. A lot of hours of optimization and testing is waiting ahead.
14.02.2008 – Design
The design of the prototype is finally approved.
01.07.2007 – Founding of Nordic Sports Car A/S
Nordic Sports Car A/S was founded.
01.08.2006 – Design
The design strategy was made and the first rough sketches was made
01.06.2006 – Concept
The idea and concept behind the prototype was made and the final decision about starting building the Zenvo car was made
Please follow and like us: