Here is the list of the winner of UPSI autoshow 2009 competition held at UPSI on 19th July last Sunday. Congratulation to all the winner.. =)
There are 4 categories which is Mira Looks, Open Standard Modified, Loco Style and K-car standard modified. KDI has been honoured to be one of the judge during the autoshow competition. There are several criteria that must be take into account to pick the winner. Not only the exterior but it also includes interior, audio system, engine and cleanliness.
WINNERS LIST OF UPSI CAR AUTOSHOW COMPETITION
Below is the winner of Mira Looks Category which have the most competitive cars. The best overall car will go to this Mira Looks Perodua Kancil with pink colour. the exterior and interior is extremely nice. It won the 1st place in Mira Looks Category.
The brown classic mira looks above is the 2nd place.
And this Kenari won the 3rd place of Mira Looks.
Another interesting category is the open standard modified. Proton Gen2 that won the 2nd place really gives a tough challenge to the Perodua Myvi but the Myvi won as the 1st place winner of open standard modified category.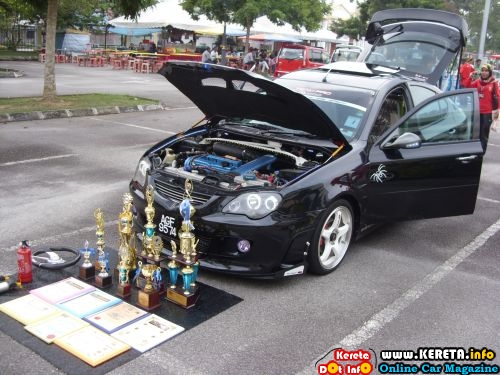 (2nd place open standard modified)
The 1st edition Saga, even it is an old car, but the owner which is a policeman have done a very good job on his car and the interior finishing made by himself amazed me and other judges which puts him to the 3rd place due to lack of audio system criteria.
Another rare and beautiful species of car category in the world, the loco style.. Many of us did not know the existance of this group of car enthusiasts but now they have their own identity and nice theme. Basically loco style is more to a car theme that shows relax and holiday mood.. With classic styling.. Above is the winner of Loco Style category with the owner there.
Three of the winners line up from left is the 1st, 2nd and third.
The last category is the K-car standard modified. K-car is basically a compact car including most of Perodua cars like kenari, kelisa & kancil. Above picture is the winner of K-car standard modified.
The hello kitty kancil won the 2nd place.
Last but not least, the simple yet beautiful white Perodua kancil won the 3rd place of K-car standard modified category.
Again, congratulation to all of the winner. We as the main sponsor of the autoshow would like to thanks to all of you who have participated in the event. =)
Please follow and like us: