WHAT IS SCOOTER CAR? – The popular MP3 Piaggio & Peugeot Hybrid Scooter Car
Scooter car is basically a vehicle with 3 wheels and roof which is can be categorised as a hybrid of motorbike or scooter with a car construction. Means it is in the middle of a bike and a car. This scooter car might be a very hot choice in the future as an alternative vehicles for people who wants safety and a little bit pamper like driving a car with a style and fuel efficient like having a motorbike. Maybe this type of scooter car not famous yet in Malaysia, but someday, this should be a good things to be considered as one of people's vehicle. A scooter like a car with roof.
SO, No Need to choose, Which one to buy? A car or Motorcycle?
Developing a new and improved energy alternative is as much as a decade away and for immediate fuel and energy savings the gas-powered scooters and scooter vehicles can move people and haul loads from point A to point B, while using less fuel than the traditional cars and trucks the majority of the world drives today. The environmental impact is less impacted driving a scooter, besides using less gas to operate, scooters require 3 wheels which its rubber requires oil to manufacturer, so one less wheel means less raw material needed and a softer environmental impact.
Gas-powered scooters or gas-powered hybrid electric scooters are much more practical than fully electric or biofuel scooters, because gas-powered scooters can travel longer ranges on a tank of fuel than fully electric or biofuel scooters are able to travel. Gasoline is cheaper to produce and safer for the environment than either electricity or biofuel.
The popular Piaggio MP3 tilting 3 wheel scooter is getting a couple of new accessories, a roof and a trailer called the MP3 Wagon. From the looks of the photo, the roof appears to work with the winter windshield and gives you full top coverage. The trailer, shown at EICMA, completes the scooter SUV combination.
Isn't this getting to be a little excessive for a scooter? If you need this much protection and carrying capacity I think you're beginning to move out of the scooter world and into either a larger motorcycle or a small car.
The Kneeslider (and the motorcycling press in general) are paying a lot of attention to commuter-friendly three- and four-wheeled motorcycles and microcars such as the VentureOne Tilting 3 Wheeler, KTM's X-Bow, and the Bombardier Can-Am Spyder (more on the Spyder). As more car-like motorcycles appear, smaller cars (Mini, Smart, etc.) are also growing in popularity, and the line between cars and motorcycles was further blurred at Dealer Expo with a surprising number of trikes, oversized ATVs, dunebuggies, motorcycle training wheels, enclosed scooters, utility cars, and the like. Piaggio must ensure that their MP3 will remain the focus of, rather than becoming consumed by, this trend.
Word at the Expo was that the MP3's greatest competition may come from within. Piaggio USA recently spread the word that the 400cc model will come to America later this year. Dealers, who are still waiting for the 250cc version, found the 400cc announcement poorly-timed (and the shipping date optimistic). Piaggio, obviously, would be happy to sell customers either model, but if 250cc sales are disappointing, the 400cc might arrive too late to keep the public's interest. The Vespa LXS faces a similar situation: again, dealers say U.S. shipping estimates are too optimistic, and the announcement will hurt sales of the "regular" LX in the meantime.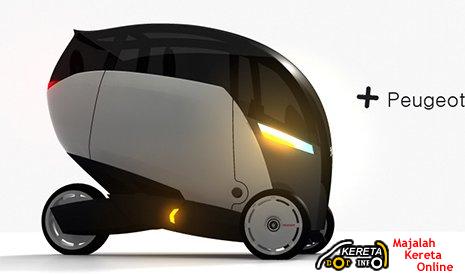 Designed by David Vargas for Peugeot Design is the Peugeot+. The scooter, car hybrid prototype uses a smaller electric engine while the third extra wheel allows for better stability. A chic looking two seater ideal for crowded cities and hard to find parking.
Please follow and like us: