New Contribution By Norman
Message :Perodua Nautica, Apakah silapnya?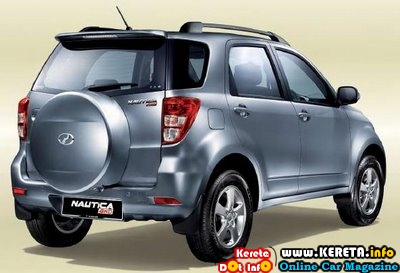 Selamat Hari Raya untuk semua terutama kepada KDI management.Di sini saya ingin mengutarakan mengapakah jualan Perodua Nautica begitu dingin sekali selain dari faktor harga yang tak munasabah untuk status kereta "Nasional" ?Pada pendapat saya Perodua tersilap langkah kerana mengimport sepenuhnye dari Jepun dengan perubahan yang sangat minimal di Malaysia.
Perodua seharusnye berani untuk mencuba untuk menurunkan harga daripada menanggung banyak kerugian.Lain faktor berkemungkinan sebab UMW ade menjual Toyota Rush dan Toyota ade mempunyai Saham di dalam Perodua.Ada lagi faktor2 lain yang anda rasa yang menyebabkan SUV ni tak berapa laku?
WHAT HAPPENED TO PERODUA NAUTICA? JUST A REBADGE DAIHATSU TERIOS?
  Extra Information On Perodua Nautica:
The new Nautica PERODUA SUV which was launched on May,09 signals a new phase in te evoltion of Perodua. The name seems appropriate since 'nauticca' is actually derived from 'nautica' which means bring to sailing into uncharted waters and Perodua is now going into new territory since this company established 15 years ago. This is the first time that Perodua is importing the model that completely built-up unit from Japan, a move that critics say is a departure from its original mission and aslo not appropriate for a national car company.
The reason why Perodua has chosen not to make the Nautica locally is that the potential sales volume is insufficient to justify the investment that would be needed. Basically, the SUV segment is no longer as large as it was 10 years ago when the Kembara was launched. Consumer preferences have changed and last year, more MPVs and pick-ups were sold than SUVs. So the SUV segment is not substantial and even the best-selling SUV, the Honda CR-V, only averaged about 443 units a month in 2007.
 Perodua estimates that the successor to the Kembara replacement model would draw about 200 buyers a month at most and while making 2,400 units a year locally is possible, the question is whether it will be worth the investment and whether it will be a CKD assembly approach or manufacturing (which means stamping body panels). There are companies which do assemble less than 3,000 units a year but their plants are geared towards smaller volumes than what Perodua today produces.
 What many do not realize is that Perodua, after 15 years, is no longer comparable to the other assembly plants in the country; it has evolved into a full-fledged manufacturing operation with an annual capacity of 250,000 units. In fact, even from the start, it was already manufacturing rather than assembling because it was stamping its own body panels, an aspect of the car-making process which requires high investments and therefore high volumes. Over the years, further investments in more advanced equipment for more efficient, higher quality manufacturing and increased automation have all taken Perodua to a point where it can no longer do small volumes.
 Nautica is a larger vehicle in all ways: 160 mm longer wheelbase, 240 mm more length, 140 mm more width and it even stands 25 mm taller. The larger platform has allowed the wheels to be pushed further apart, which is better for stability. The centre of gravity is lower as the width-to-height ratio of the Nautica is 1.02 whereas for the Kembara, it was 1.10. Of course, the larger body means more metal and glass and it's not surprising that the kerb weight has risen to 1200 kgs, about 10% heavier than the Kembara.
Until now, we hardly see any Perodua Nautica On the road. And not even one Nautica i saw with any bodykit / skirting / any modified Nautica due to too less people buying the Nautica. What is your opinion?
Please follow and like us: