New Contribution By Norman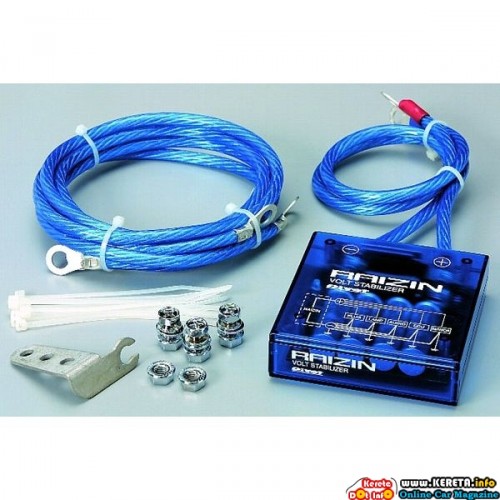 Message :Voltage Stabilizer,Relevan tak?
Baru ini saya bercadang nak pasang DVD with bluetooth radio integrated tapi kedai cakap pasang Volt stabilizer dan grounding cable lagi bagus.Persoalannye saya hanya ingin sambungkan wayar terus ke speaker asal bukannye ICE yang fancy2 tu.Relevan ke saya nak pasang bende tu sampai $150??Setahu saya kalau kete penuh ngan ICE baru cocok pakai bende ini.Tolong jelaskan.Lagi satu saya meragui VS ni, Ade ckp jimat
petrol, Pick up power etc, Macam tak caya jer.
Additional info by KDI for example pivot raizin voltage stabilizer. Is it effective?:
Product Description
* RAIZIN Volt Stabilizer 82%. (Blue)
* Improved audio quality.
* Increased torque and response and power.
* Stabilized idling and improved engine kick over.
* Increased headlight brightness.
* Improved fuel economy.
* Improved battery.
* Our special condenser and original circuitry design bring you voltage stability.
* A blue LED helps you identify any possible wiring mistakes. (Even with the key off, the LED only uses 0.5mA of power)
* Internal duel fuses prevent any possible accident.
* Heat resistant (to 125ºC) case will not change shape.
* Circuitry has waterproof coating. (But do not to install in areas. Subject to water or spray with water)
Made in Japan.
1 YEAR WARRANTY
Original With 1.5 and "K" Marking
KDI : Mengenai kes Norman nak pasang DVD player tu, x perlu lah Voltage stabilizer tu. Tak wajib pun. Tapi ada sesetengah produk voltage stabilizer yang terbukti berkesan. Mungkin boleh dgr pandangan dari pengguna lain di sini atau dari rakan2..
Please follow and like us: