Maybe many of us didn't realize of the existance of the tricycle motorbike like Spyder Can-Am in Malaysia. Maybe we are too concentrating on the car story rather than digging up some motorcycle stuff. But now, you are already exposed to JPJ approved to be on the road, the Spyder CAN-AM 3 wheels motorbike.
This motorbike has some features nearly same as a car but it is more towards a motorbike genetic. Is it worth to have the 3 wheels motorbike? With no roof and you are stuck in the jam? Hmm.. We can see rarely people buy this motorbike. I never see the bike on the road in Malaysia. But the bike is absolutely cool.
It has a wider dimension than a Perodua Kancil, ABS, EBD and many of car specification in the 998 cc motorbike.
Here we would like to share some information regarding specification of Spyder Can-am 3 wheels motorcycle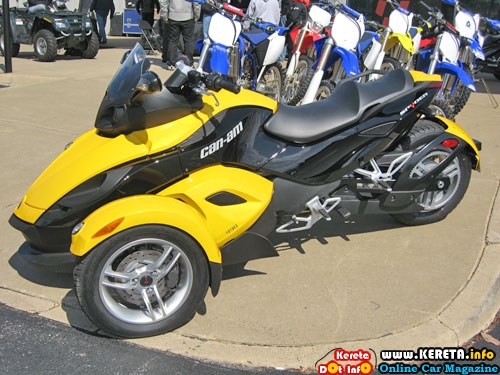 TRICYCLE SPYDER CAN-AM – THREE WHEELS MOTORCYCLE SPECIFICATION
Engine Specification
Manufacturer:    BRP-Rotax
Type:    990 V-Twin
Displacement:   60.90 in3 (998cc)
Bore:   3.82 in (97 mm)
Stroke:   2.68 in (68 mm)
Cylinder:   2
Valves per cylinder:   DOHC 4
Max output:   106 hp @ 8500 rpm
(79 kW @ 8500 rpm)
Max torque:   77 lb-ft @ 6250 rpm
(104.3 Nm @ 6250 rpm)
Compression ratio:   10.8:1
Ignition type:   Electronic ignition with dual output coil
Lubrication:   5W40 BRP synthetic oil
Exhaust system:   2-into-1 with catalytic converter
Cooling:   Liquid cooled
Injection:   Multi-point EFI with 57 mm diameter throttle bodies
(JPJ APPROVED)
Drive Train
Gear box:   Sequential Manual 5-Speed (SM5) with transmission-based reverse
Optional gear box:   Sequential Electronic 5-Speed (SE5) with transmission-based reverse
Final drive:   28/79 ratio final drive with
Carbon-reinforced drive belt
Clutch:   Wet, multi-plate, manual or electronic operation through a hydraulic piston
Electric Equipment
Magneto:   500 Watt
Starter:   Electric
Battery:   Dry Cell, 12V, 21 Amp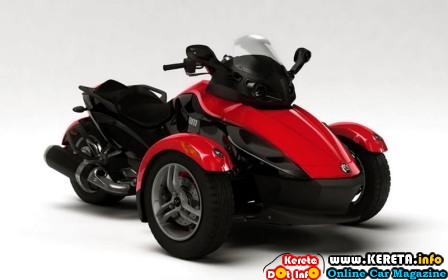 Geometry
Front suspension :   Double A-Arm with anti-roll bar
Front suspension travel:   5.67 in (144 mm) with adjustable cam
Rear suspension:   Swing-arm with monoshock
Rear suspension travel:   5.71 in (145 mm) with adjustable cam
Chassis type:   SST Spyder
(Surrounding Spar Technology)
Steering:   DPS (Dynamic Power Steering)
Tires & Wheels
Front tire:   KR21 165/65R14
Front nominal pressure:   13-17 psi (89-117 kPa)
Rear tire:   KR21 225/50R15
Rear nominal pressure:   26-30 psi (179-207 kPa)
Wheel size, front:   Aluminum 14×5 (355×127)
Wheel size, rear:   Aluminum 15×7 (381×178)
 Brakes
Type:   Foot-actuated, fully integrated
hydraulic 3-wheel braking system
Front braking system:   4 piston calipers with 10.2 in x 0.25 in (260 mm x 6 mm) discs
Rear braking system:   Single-piston caliper with 10.2 in x 0.25 in (260 mm x 6 mm) disc
EBD:   Electronic Brake Distribution
ABS:   Anti-lock Braking System
Parking brake:   Mechanical, foot actuated to the rear caliper
Safety & Security
VSS:   Vehicle Stability System
ABS:   Anti-lock Braking System
TCS:   Traction Control System
SCS:   Stability Control System with
Roll-Over Mitigation
DPS:   Dynamic Power Steering
DESS:   Digitally Encoded Security System
Vehicle Dimensions & Weights
Dry vehicle weight:   699 lbs (317 kg)
Front storage capacity:   2,685 in3 (44 l)
Front max load capacity:   30 lbs (15.9 kg)
Total vehicle load allowed:   440 lbs (200 kg)
Fuel capacity:   6.6 US gal (25 l)
Oil capacity:   1.19 US gal (4.5 l)
Coolant capacity:   0.85 US gal (3.2 l)
GVWR:   1,188 lbs (540 kg)
Ground clearance:   4.5 in (115 mm)
Vehicle overall height:   45.1 in (1,145 mm)
Vehicle overall length:   105 in (2,667 mm)
Vehicle overall width:   59.3 in (1,506 mm)
Seat (top) height:   29 in (737 mm)
Wheel base:   68 in (1,727 mm)
Wheel track, front:   51.5 in (1,308 mm)
Type of gas:   Unleaded, 87 octane minimum
Features & Main Options
Dual analog and LCD w/speedometer,
tachometer, electric fuel gauge,
daily trip (A & B) meters, engine
temperature, ambient temperature
and gear position indicator. Information
displayed in either metric or US Standards
Main options:   Fog lights, xenon lights,
mono seat cover, racing exhaust pipe,
travel bags, cargo liner, passenger
backrest, low and high windshields
Warranty:   2 years
(Imagine a Malaysian ride on the three wheelers.. hurm..cool!)
You can get the motorbike in some of the big motorcycle shop (kedai motor) in malaysia like welly.
Please follow and like us: