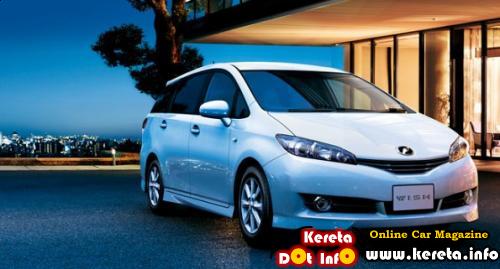 2009 Toyota Wish
In January, we gave you some information about the leaked brochure of 2009 Toyota Wish. Today, we want to give you the full detail of 2009 Toyota Wish which unveiled in Japan.It is the first change to the Wish line since the 2005 facelift.The 2009 Toyota Wish is expected to go on sale in Malaysia soon. Toyota Wish also is one of the popular version 7 seaters in Malaysia.
Below is the link for the 1st information that we give before.
http://kereta.info/2009-toyota-wish-jdm-brochure-leaked-specification/
The vehicle will have a choice of two engines both upgrades from the vehicle's current offering.
 Valvematic Engine
2009 Toyota Wish Engine
1.8 L 2ZR-FAE DOHC Dual VVTi +Valvemetric
106kW(144PS)/6,400rpm
176Nm(17.9kg-m)/4,400rpm
2.0 L 3ZR-FAE DOHC Dual VVTi +Valvemetric
118kW(158PS)/6,200rpm
196Nm(20.0kg-m)/4,400rpm
The 1.8-liter engine can pulls the Wish for 16 kilometers per liter of fuel (6.25l/100km). It comes standard as a front-wheel-drive, but can be upgraded with either a more responsive CVT Sport Mode, four-wheel drive, or both.
For the 2.0-liter engine, it  is available with Dynamic Sport Mode. DSM uses traction control and electric power steering to give better responsiveness.Both engines are mated to the Super CVT-i transmission, and some have manual paddle shifting for 7 virtual CVT gear ratios.
 Toyota Wish dashboard.
Although engine choices do not particularly differ from the last generation, several physical upgrades have been made both in and out.  Exterior changes include stronger front bumpers, redesigned lighting, front pillars that have been brought to the front, new color choices, and an all-around sportier stance. Improvements inside include a trunk space that has been widened by 95mm, titanium or silver finish around the center console, better ergonomics, and increased legroom.
There will be four trim levels, with two featuring each engine. Those getting high spec models will get a push button ignition and keyless entry.  It also has a parking assist system that tells you when to back up during parallel parking and when to turn the steering wheel.An improved version of VSC called S-VSC also equipped.It uses the electric power steering system to apply appropriate steering torque which is to help stabilize it.
2009 Toyota Wish – Rear View
2009 Toyota Wish – Side View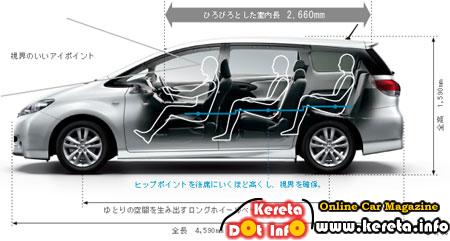 Please follow and like us: