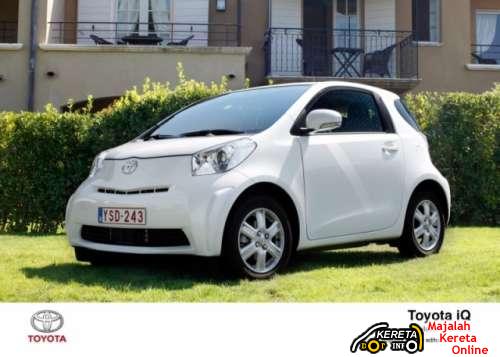 Toyota is touting the Toyota iQ as the ultimate refined mode of transportation and at less than 118 inches in length, it's certainly small enough to be a devoted city runabout.
The Toyota iQ is called a 3+1, meaning it is capable of carrying up to three adults along with a child or luggage in comfort.
Toyota is especially proud of the six engineering innovations it utilized to maximized interior space in the iQ in addition to the long wheelbase of nearly 79 inches, which minimizes overhangs but maximizes the space between the wheels. The first includes a newly developed compact differential, alone said to be responsible for over 100mm of added length in the cabin in comparison to the B-segment Toyota Yaris. The rest includes rear-angled shocks and a flat fuel tank under the seats, a smaller heater / air conditioner unit that's just as efficient, a center take-off steering column, an asymmetrical dashboard as well as slimmer seats claimed to contribute about 1.5 inches in length to the interior. Despite its small size, the iQ received a 5-star safety rating in Euro NCAP testing.
"We came to the conclusion that, in order to ensure a sustainable future, there was a need for a radical change in vehicle packaging. We needed to create a break-through, away from the traditional belief that small is basic," said Kazuo Okamoto, Executive Vice President in charge of Toyota Research and Development (TRD).
The pushed-forward dashboard features temperature controls with an LCD display, as well as a 5.8-inch screen for satellite navigation system.
The Toyota iQ showed at Geneva sat on 16-inch wheels and powerplant choices will include two gasoline and one diesel engine. Toyota expects to sell 100,000 units of the iQ in its first year of production globally.
ABOUT TOYOTA IQ CONCEPT
The Toyota iQ is an ultra-compact concept car unveiled at the 2007 Frankfurt Auto Show. The car was designed by ED2, Toyota's design studio in southern France. Toyota claims it is the world's smallest four passenger car, though one of the passengers must be a small child.
The iQ concept is equipped with miniaturized technology to help free up interior space. The design is intended to place emphasis on low fuel consumption, maneuverability and environmental friendliness. It also features a panoramic glass sunroof
Production will begin in Japan in late 2008 and is believed to be the first model in a series.
iQ will be offered with a choice of two petrol engines and one diesel. CO2 emissions are anticipated to start at around 100g/km.
Toyota iQ has been designed to meet Euro NCAP's top five-star safety rating.
A newly developed differential allows iQ to have a more compact engine compartment and front wheels placed at the very corners of the car, with very short overhangs.
iQ has a centre take-off steering gear, positioned higher in the engine bay. The gear, engine and differential could then be repositioned, giving the car a shorter front overhang.
A flat under-floor fuel tank has allowed shorter rear overhangs to be developed, helping reduce the car's overall length.
The size of the heater/air conditioning unit has been significantly reduced, without sacrificing performance. As a result, the front passenger area can be moved forwards towards the base of the windscreen, freeing up additional cabin space.
UK sales are scheduled to start in spring 2009 with some interesting price and worth for all.
Please follow and like us: