The new Bentley Mulsanne is now available in Malaysia .Read the full news from The Star by Anthony Lim below.
BENTLEY KUALA LUMPUR UNVEILS THE MULSANNE.
Bentley Kuala Lumpur is celebrating its first anniversary in style, marking the occasion with the unveiling of the new Mulsanne in Malaysia.
The particular example of the Mulsanne, finished in Light Gazelle, will be available for viewing and scheduled walkabout presentations for a limited period from Apr 15-23.
The flagship grand tourer, which replaced the Arnage, marks a return of the name after 17 years. Inspired by the 8-litre from 1930, the vehicle features a 6¾-litre twin-turbo V8 that puts out 505bhp at 4,200rpm and a hefty 1,020Nm of torque early on at 1,750rpm. The block is mated to the same ZF 8HP eight-speed transmission as found on the BMW 760Li.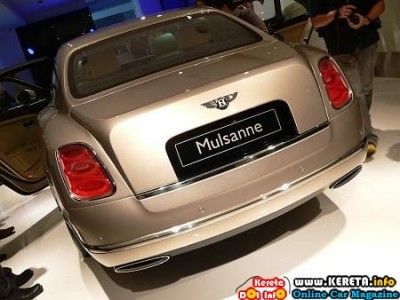 As expected, there's plenty of refinement and bespoke luxury to be found on this one, especially where the hand-crafted interior is concerned – lots of wood and leather here, for sure. Not that modern amenities on the 2.58 ton beast are lacking, of course; consider the standard offering of a 14-speaker audio system with Digital Signal processing and a six-CD changer, as well as a multimedia system with a 60GB hard disk and 8-inch LCD screen offering a multitude of control options, from telephone and AV to satellite navigation, among other things.
Other features include a new air suspension system with Continuous Damping Control, and 20-inch wheels as standard, though the example being shown in KL wears optional 21-inch wheels with 265/40 series rubbers.
Please follow and like us: