Acura's new design for their concept car, as seen on the 2009 TL, is fronted by a shield-like appendage that has received mixed reviews. The Acura 2+1 — the numbers describe the seating arrangement — by design student Leon Paz is what would happen if you took the shield theme to one natural conclusion.
The body is fashioned from a plastic that is harder than fiberglass.
The upper surface is one continuous window that shows off the twin-turbo V6 and the Acura logo for the cylinder covers. There is no hood — at your yearly service, the dealer would lift the glass and perform any engine maintenance.
The 2+1 would be an aspirational step for those who want an NSX but can't afford one yet. Based on what we've seen of the NSX so far, we'd probably rather have the 2+1. However, our most pressing question about the car isn't about the design — we really want to know what is the meaning of "OW AHH" scrolled in LED's across the rear? THE NSX REPLACEMENT.
The transparent hood-windscreen-roof section clearly shows off the front mounted V6 twin turbocharged engine which is neatly mounted just aft of the front axle. The 2+1 concept also uses an electrical motor which is powered by a clear solar panel positioned under the glass.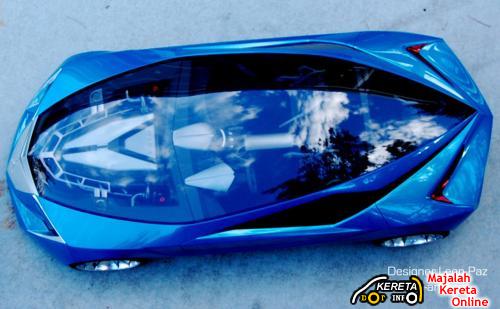 The owner cannot access the enclosed engine bay, that's why there is no cowl shut line. The Acura 2+1 concept relies on a scheduled annual service at the dealer, where the whole glass panel is lifted, and all fluids replaced and maintenance issues are resolved. A green nanoil, made from organic materials with nanosized beads support the piston's life and oil cycle. The maintenance service also offers new in-fashion upholstery covers for the interior made from 100% recyclable fabrics that the owner can update according to trends, vehicle use, or personal reference.
As the name suggests, the Acura 2+1 concept features a 2+1 seating layout inside.
While the Acura 2+1 is an independent design which stands very little chance of production, it does have some interesting features and futuristic styling which one day may find their way into other production cars.
Please follow and like us: