We have seen so many waja modified with VIP style and now we would like to introduce to all kdi readers about one of the waja modified sports version which is owned by Kamal from Blaze Motorsport. Sports style is one of the famous modification theme on a car nowadays which consists of many stuff, bodykit and decoration on the car.
SPORT STYLE MODIFIED PROTON WAJA – KAMAL BLAZE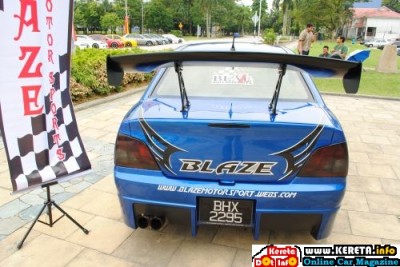 The rear GT Wing Spoiler with high adjustment and can be lowered down anytime.
17 sport rims 5 spoke which really express a sporty looks on the modified waja. Smoked tinted rear tail lamp and diffuser.
The interior is wrapped with fur on the dashboard, door trim and center armrest panel. Unique white panel on the dashboard meter.
Custom bumper DAMD style for waja, tinted head lamp and reshaped hood.
The extreme modified waja with the proud owner, Kamal Blaze Motorsport
Please follow and like us: