This is some image report during our kdi visit to Klang to hunt for the latest sport rim design especially the famous rota rim in Klang Valley.
SPORT RIM DESIGN – KLANG VISIT REVIEW
We have visited a famous sport rims and tyres shop (kedai papan @ kedai sport rim tayar klang jalan kapar) recently and gathered a few pictures for your view.
Most sport rim available there includes the 15 inch, 16 inch and 17 inch sport rims. But not to forget other rim size 13, 14, 18 up to 20 inches and also suv pickup truck sport rims.
This shop is very busy. Open as early as 9am to 7pm normal hours full of customer with their more than 5  parking slot to change to new sport rims.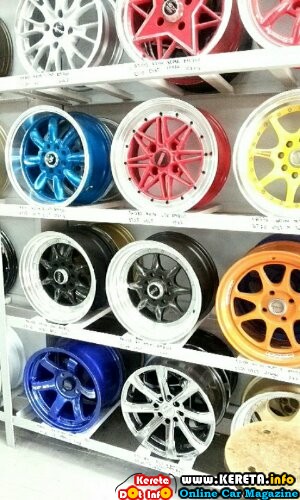 Price will vary with the rim size. This is our summary of sport rim price list in Klang Jalan Kapar:
Sport rim size : price range
14 inches : RM600-700
15 inches : RM850-950
16 inches : RM1100-1300
17 inches : RM1350-1700
From x 5jj to x 10jj
Various pcd from 100
The price is for a set of 4 sport rims only.
If you found your nearest shop sell sport rims around that price range, then better buy from the rim shop.
Nowadays, price of sport rim quite standardized. Unless u can get the best deal, kindly share here.
Give your cheapest sport rim murah review in Malaysia.
Please follow and like us: