Silverstone Bhd now sold by Lion Forest Industries to the Japanese Tyre manufacturer, the Toyo Tires. This change affect the price of the Silverstone tyres and also the quality in the future. We already saw the price of Silverstone tyres increasing. Hopefully Toyo will remain the price to the affordable range. Read the news from thestar below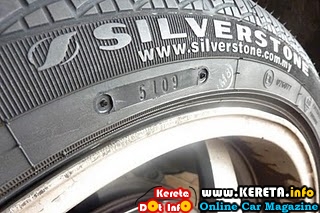 SILVERSTONE TYRES NOW OWNED BY JAPANESE TOYO TIRES
Lion Forest Industries Bhd, owned by Lion Group, is selling its local tyre manufacturer Silverstone Bhd for RM462mil to Japan's Toyo Tire & Rubber Co Ltd.
In the deal that is expected to be completed by January next year, Lion Forest looks to realise and unlock the value in Silverstone and make a gain of RM140mil from the sale.
In a filing to Bursa Malaysia yesterday, Lion Forest said its subsidiary Silverstone Corp Bhd was looking to dispose of its entire stake, or 203.88 million shares of RM1 each in Silverstone. Silverstone has a paid-up capital of RM203.88mil.
 Silverstone factory is in Taiping, Perak.
Toyo Tire, which operates in over 100 countries, is involved in the sales and manufacturing of automobile tyres, industrial rubber, soft and rigid polyurethane products, and automotive anti-vibration rubber. Listed on the Osaka, Tokyo and Nagoya stock exchanges, the company has a market capitalisation of RM1.6bil as at Oct 21, 2010.
This will be Toyo Tire's first cross-border acquisition as it seeks to make a full-scale entry into the fast-growing South East Asia market.
Toyo Tire, which is said to be the fourth largest tyre manufacturer in Japan, plans to commence production of Toyo and Nitto brand tyres in Silverstone as soon as practicable, while using Malaysia as its export distribution hub for Asia.
Toyo said it aimed to further improve the quality of the Silverstone brand tyre, with the goal of expanding sales throughout Asia.
Silverstone, which has a diversified motor vehicle tyre portfolio, exports to more than 60 countries from South America to the Baltic countries, throughout Asia, Europe, Africa, Australia and the Middle East. Its annual production capacity in Malaysia is 3 million units.
Please follow and like us: