FUEL CONSUMPTION of a car or vehicle now is the big issue for us to take into account especially when you want to buy a car. Here we would like to generate a new and genuine database about your car fuel consumption (data penggunaan minyak kereta) by sharing info of fuel consumption regarding each car that you have used and are using now. We just hope all info here are totally true and calculated using a standardized format on how to calculate fuel consumption.
ALL CAR / VEHICLE FUEL PETROL CONSUMPTION – KADAR PENGGUNAAN MINYAK KM/LITRE
Basically there are two type of how you calculate your FC (cara kira penggunaan minyak) which is by filling up to full tank or filling when the fuel warning light illuminate.
For 1st way of calculating fuel consumption by filling up to full tank is more accurate and easy by filling your car with full of petrol. Just tell the petrol station staff to fill up "full tank" and fill it up until the pump stop. Then set the kilometer trip meter (meter jarak perjalanan) to zero and start your journey. Then after 30 or 50km, go to fill up your car again until full tank. The amount of RM or litre that you fill the second time is the fuel consumption of your car when you travel 30 or 50km.
Then try to calculate like this. For example you have travel 50 km and you pump up RM10 of 5.555 litre petrol in your car with fuel until full tank on 2nd time. It means that you have used 5.555 litre petrol in 50km. Then lets get the standard measurement of fuel consumption in km/litre. Just doing a division of 50km divide 5.555litre which will show you the fuel consumption of  9km/liter. Try to do the same way on how to calculate the FC until you get the average FC (fuel consumption)
The 2nd way to calculate fuel consumption is by filling up fuel when the fuel warning light illuminate. I always use this way because you will get the most fuel efficient fuel consumption due to less weight of fuel pumped in your tank. How to do that? It is simple. Just reset the kilometer trip meter (meter jarak perjalanan) to zero whenever your fuel warning lights illuminate. To get more accurate value, try to travel around 5km more to see if the light is off or not. If the light is still illuminate means it really have reached the minimum level. If it is not illuminate, travel more again until the light illuminate for the 2nd time and reset the trip meter to zero. Then go to petrol station pump and fill up around RM10 which is 5.555litre (fuel price RM1.80/litre) . Then travel anywhere until the warning lights illuminate and look at the trip meter will show you how many kilometer you can go with RM10.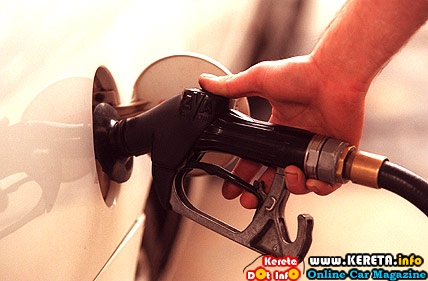 Then do the calculation like the first way. To get the km/litre, just take the reading of your trip meter for example 50km divide by 5.555litre. To get the cent/km or RM/KM, just divide RM10 with 50km which will show you the result of fuel consumption of RM0.20/kilometer.
Please share with us your car fuel consumption (true facts) in the comment section below by using this format:
1) Car Model : Proton Saga BLM 1.3litre auto
2) Petrol Used : Shell RON97
4) Fuel Consumption :
Worst FC (in city/ heavy traffic) :  9km/litre
Best FC (on highway):  13.5km/litre
AverageFC (usual FC):  11.5 to 13 km/litre
5) Extra Note: any modification?, oil used, your car total kilometer traveled, any info affecting your fuel consumption? etc..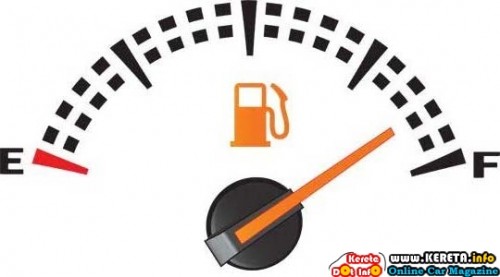 Below we will update the average fuel consumption of all car in Malaysia:
Proton Waja CPS 1.6 9-11.6km/L
Proton Wira 9-12km/L
Proton New Saga BLM 11-14km/l
Proton Savvy 15km/l
Proton Satria Neo 1.3
Proton Satria Neo 1.6
Proton Perdana v6
Proton Gen2 1.3
Proton Gen2 CPS 1.6
Proton Persona iafm
Proton Exora 1.6
Perodua Nautica
Perodua Myvi 12 – 14 km/L
Perodua Kancil 660  14-18km/l
Perodua Kancil 850  15km/l
Perodua Kelisa 15-17km/l
Perodua Kenari 13km/l
Perodua Viva 1.0
Perodua Viva 850
Perodua Viva 660
Toyota VIOS 1.5 13-16km/l
Toyota hilux
Toyota Avanza 1.3 10km/l
Toyota Altis
Toyota Yaris
Toyota Wish
Toyota Camry
Toyota Fortuner
Toyota Rush
Toyota Innova
Toyota Hiace
Nissan Grand Livina 1.6
Nissan Grand Livina 1.8
Nissan Latio
Nissan Silphy
Nissan Navara
Nissan Sentra
Nissan X-Trail
Honda City 2009
Honda Jazz
Honda Civic 1.8
Honda Civic 2.0
Honda Civic Hybrid 1.3
Honda Civic Type R
Honda Accord 2.0
Honda Accord 2.4
Honda Accord 3.5
Honda CRV 2.0
Honda Stream 1.8
Honda Odyssey 2.4
Chery Eastar 2.4
Chery QQ
Chery Tiggo
Chana Era CV6
Chana Era CM8
Hyundai i10
Hyundai Getz
Hyundai Matrix
Hyundai Tucson
Hyundai Santa Fe
Hyundai Starex
Hyundai Coupe
Kia Spectra
Kia Citra
Kia Rondo
Kia Sorento
Kia Rio
Kia Picanto
Kia Sportage
Mazda3
Mazda5
Mazda6
Mazda RX8
Mazda MX5
Mazda CX9
Mazda BT50
Ford Focus
Ford Escape
Ford Ranger
Chevrolet Captiva
Chevrolet Optra Magnum Estate
Chevrolet Optra Magnum
Chevrolet Aveo
Mitsubishi Lancer
Mitsubishi Lancer Evolution
Mitsubishi Grandis
Mitsubishi Triton
Mitsubishi Pajero
Naza Bestari 206
Naza Sutera
Naza Suria
Naza Forza
Naza Citra
Naza Ria
Suzuki Swift
Suzuki Grand Vitara
Suzuki SX4
Peugeot 207
Peugeot 308
Peugeot 407
Isuzu Dmax 2.5
Isuzu Dmax 3.0
Please follow and like us: