Now you are most probably will close your eye and try to look closer to the picture. Yes! It is a modified Toyota Prius Hybrid which has been converted to 6 doors 10 seaters vehicle by welding the additional center part of the Prius that has which makes this car as a successful first hybrid car with 10 seater passenger capability. Anyhow, I don't know how they put 10 seat inside but that is what they claimed to be the 10 seater hybrid car.
SCARY CUSTOMIZED PRIUS HYBRID 6 DOORS 10 SEATERS
The modification done on Toyota Prius is by a Canadian which really obsess in turning his car to a bigger car which can bring more of his family members in a fuel efficient car which can still travel up to 21km/litre fuel consumption.
The scary part is how they join the center body structure of Prius. You can see the welding part.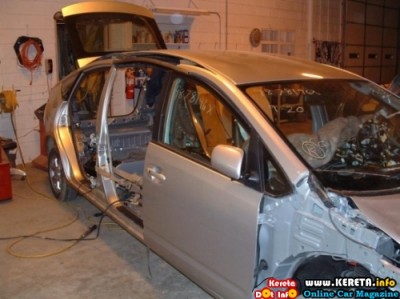 The work in progress.
That is the rear part. Maybe he get it from any kedai potong / halfcut shop and get the center part of it to be combined.
But at the end, the result is tremendous! very nice and just like it is originally manufactured with 6 doors! What a crazy and intelligent idea. =)
Please follow and like us: