Amir's Proton Saga BLM
Today, we want to give you some information about about this modified Proton Saga BLM. The owner of this red Proton Saga BLM is Amir Asyraf Idris, from Terengganu. He is one of our own kereta.info (KDI) reader.
Work in UMP, Kuantan and his passion for car had encourage him to modify his Proton Saga BLM. First time I saw his car, I already knew that his car is suitable for those who want to make a light modification on their Proton Saga. With striking red colour I'm sure that many people will stop and stare at this car. All of this modification cost him about RM3500.
Looking at the front of this red Saga. Amir had painted the area around the grill with black colour that  make the car looks more fierce.He also had installed front skirt and also air scoop on his car hood.For the spoiler, Amir had choose a R3 spoiler, which is a good choice for him. Overall cost for the bodykit and painting was about RM1060.
For the sports rim, Amir had installed white colour Advan RG1 16" rims wrapped in 205/45 Neuton tyres. All the sports rim and tyres cost him around RM2000 (original price RM2500). That is the price after he trade in with the original tyres and rims. By installing the new rims, his car look more aggresive and sporty and attractive than it previously were.But, for springs and absorbers, Amir still using the original one.White, red and black, a good combination of colours that can make a car looks fierce and aggressive. Maybe Amir can add another colour which is orange, perhaps?
Amir's Saga BLM without sticker.
Like in the Fast and Furious film, looking from the side, you will see black and white sticker lining from the front to the back.You also can see a sticker write "High Performance Proton" at the centre between driver and passenger door. It shows that he really proud with our national car maker,Proton. Same with me, no matter how many people said the bad thing about Proton, I'm still support Proton.I hope that Proton can change to be a strong brand in automotive industry. He also had installed a nice side skirts on his car.This simple touches makes the car much more attractive.Amir spent around RM400 for this sticker.All of this modification he did in Kuantan.
The engine of this Proton Saga BLM still the standard engine, which is Campro 1.3 IAFM. The Campro IAFM (Integrated Air-Fuel Module) is essentially a basic DOHC Campro engine equipped with a variable-length intake manifold. This engine keeps the Campro 1.3's 94 horsepower at 6,000rpm and 120Nm of torque at 4,000rpm figures, with changes only to the way the power and torque is delivered instead of any change in the peak power and torque.
I would like to congratulate Amir on succesfuly modified his Proton Saga BLM. Good job Amir!.Hope you can add another modification on your car.Maybe audio systems? So, for those who want to make some light modification on their Proton Saga BLM, you can take this idea as an example.
For those who want to share their idea on how to modify Proton Saga BLM, you can post a comment below or contact me at my email [email protected] or [email protected]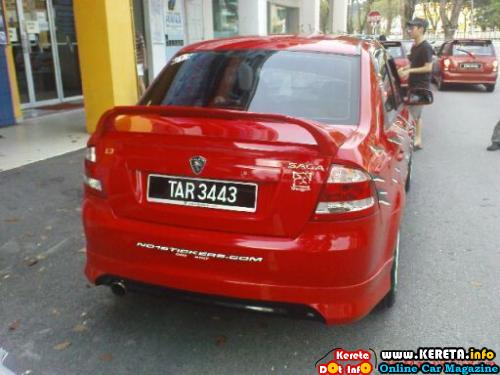 R3 Spoiler..Looks nice right?
 Proton Saga BLM, one of the best product by Proton!. The front of this car looks smart right?
 Red,white and black..combination of colour that make this car attractive!
Please follow and like us: