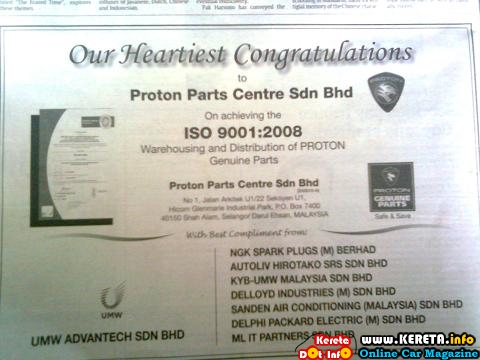 Recently Proton Parts Center Sdn Bhd has been awarded the ISO 9001:2008 warehousing and distribution of Proton Genuine and Original Parts. Above picture is a snap picture of congratulation statement from UMW to Proton Parts Center. Below is some of the facts of Proton Parts Center.
PROTON PARTS CENTER HIGH QUALITY ACHIEVEMENT
Proton Parts Centre Sdn. Bhd. (PPCSB) is a subsidiary of Proton Holding Berhad (PROTON). It is a joint venture company between PROTON, EON and HICOM.
Shareholders of Proton Parts Centre Sdn. Bhd.
 SHAREHOLDERS   UNIT OF SHARE (%)
PROTON 55
EON 40
HICOM 5
The company was incorporated on 19 June 1992 with a paid-up capital of RM16 million and an authorised capital of RM20 million ringgit. It commenced operations on 15 May 1993. It is located at the Hicom Glenmarie Industrial Park in Shah Alam, Selangor and covers some 11.76 acres.
The office is about 20 km from the capital city of Kuala Lumpur.
Board of Directors
Y.Bhg. Dato' Mohd Nadzmi Mohd Salleh (Chairman)
Encik Rali Mohd Nor (Managing Director)
Y.Bhg. Dato' Abdul Hamid Mustapha
Y.Bhg. Dato' Lukman Ibrahim
Y.Bhg. Dato' Nik Hamdam Nik Hasan
Encik Mohamad Shukor Ibrahim
Encik Azman Idris
Encik Mohd Aslam Khan Farikullah (Alternate Director to Y.Bhg. Dato Lukman Ibrahim)
Determined to be the logistic base company that engages in sourcing, warehousing and distributing of Proton genuine parts for PROTON's market in domestic as well as overseas.
PROTON GENUINE PARTS
are superior and reliable because they have undergone the most rigorous quality control procedures and meet international quality standards.
Imitation parts are not recommended due to the inferior materials being used and manufacturing methods that do not comply with the strict standards established for PROTON GENUINE PARTS.
A large assortment of PROTON GENUINE PARTS is always available at PPC authorized dealers and Regional Parts Centre in Kota Kinabalu, Kuching, Miri, Johor Bharu, S.Prai, Kota Bharu, Wangsa Maju and Centre of Service Excellence (CoSE) Shah Alam, Selangor.
Please follow and like us: