PROTON EXORA & PROTON SATRIA NEO R3 LOTUS RACING WILL BE EXPORTED TO AUSTRALIA.
Proton is set to introduce a range of new models in Australia later this year, including its first people-mover, the Proton Exora.The Proton Satria Neo R3 Lotus Racing also will be in the list.
Debuting internationally in April last year, the Exora is powered by a 1.6 litre petrol engine, producing a lowly 93kW and 150Nm of torque. Fuel consumption is listed at 8.3 l/100km, and kerb weight is a relatively light 1422kg.
For the Proton Satria Neo R3 Lotus Racing, it is powered by the standard 1.6 liter engine coupled with a manual transmission that has been tuned to output 145 hp at 7,000 rpm and 168 Nm of torque at 5,000 rpm. To get the extra power, the Proton Satria Neo R3 Lotus Racing comes with a re-programmed ECU, new camshafts, Titanium headers, a carbon fiber air intake with a K&N filter and a new exhaust system.
The extra power means the Proton Satria Neo R3 Lotus Racing has a top speed of 205 km/h and a 0 to 100 km/h acceleration time of 9.2 seconds.
Proton Australia has yet to reveal pricing for the Australian-delivered Exora, but it is known that it will featured a turbo-charged version of the Exora's 1.6 litre engine, ensuring a little more bang for the Australian buyer's buck.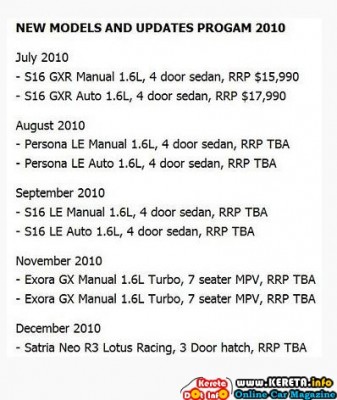 Please follow and like us: