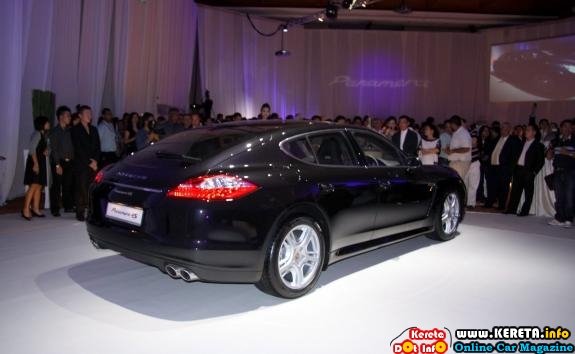 Porsche Panamera now in Malaysia.The Panamera S retails from RM998, 000 for manual transmission, while the 4S is from RM1,118,000. The Panamera Turbo will start from RM1,398,000.Read the full news from CBT below.
PORSCHE PANAMERA LAUNCHES IN MALAYSIA.
Porsche's four-seater Gran Tourismo, the Panamera, made a grand entrance onto KL shores last Saturday night, when it was launched at the Kuala Lumpur Convention Centre.
The event was graced by His Excellenct the German Ambassador to Malaysia, Dr Gunter Gruber and the cars were launched by Dato' Mokhzani Mahathir, chairman of Jaseri Automotive Group.
As its first four-door sedan, the Panamera is Porsche's answer to the Mercedes-Benz S-Class, BMW 7 Series and Audi A8. Three variants are available, the Panamera S, 4S and Turbo – the first two are powered by a 400hp V8, 4.8-litre natural aspirated engine, while the top of the range Turbo has a dual-turbo charged V8, 4.8-litre engine that produces 500hp.
According to Mokhzani, the best thing about the Panamera is its impressive low fuel consumption, at 10.8 litre per 100km for the S, 11.1 litres per 100km for the 4S and 12.1 litres per 100km for the Turbo. "This is achieved through technology and lightweight construction of the body such as the axles, bonnet, wings, doors and tailgate that are made of aluminium, the window frames and cylinder head cover from magnesium, among others. This saves on weight, and therefore fuel," he says.
The Panamera is available in eight interior decor styles, six interior colours and four two-tone finishes in several leather variants.
Please follow and like us: