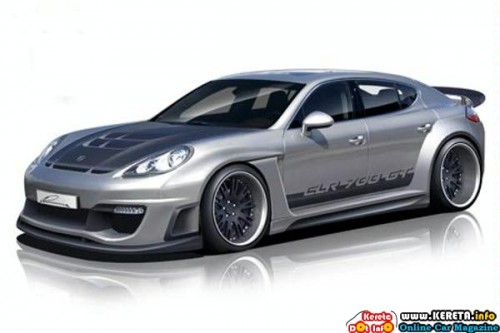 Before this we already posted about the new Porsche Panamera tuned by 9FF and also Gemballa.Today, we would like to show you some pictures of Panamera but by the other tuner which is Lumma Design.
You can view again the post by click the link below.
http://kereta.info/porsche-panamera-9ff-panamera-turbo-by-specfialist-porsche-tuner-9ff/
http://kereta.info/porsche-panamera-mistrale-by-german-tuner-gemballa/
Below are some images of the Porsche Panamera CLR 700GT concept that have surfaced on the web from the car tuners at Lumma Design.Giving the new Porsche an aggressive appearance, Lumma design hooked it up with an extreme body kit.
Its extreme bodykit consists of  a new front fascia, a carbon fiber hood, and also aerodynamic side skirts. Other changes include 22-inch 'Racing Edition' wheels, rear fender vents, a carbon fiber spoiler, a quad-tailpipe exhaust system ,and a new rear apron with an integrated diffuser.
The Lumma Design Porsche Panamera CLR 700GT boasts 700 PS, hence the 700GT, and the tuning company has installed a lowering module that reduces the ride height by 35 mm or 1.38 inches.The high performance brake system also included on the Porsche to slow down all the extra power.More information once Lumma officially unveils the Panamera CLR 700GT.
PORSCHE PANAMERA CLR 700GT DESIGN SKETCH BY LUMMA DESIGN.
Below are two images of Porsche Panamera by 9FF and Gemballa.

Porsche Panamera 9FF
Porsche Panamera Mistrale.
Please follow and like us: