New Contribution By Mohammad Adha
Picture of Kia Rondo Novus version displayed at the Sunway Karnival Mall Pulau Pinang submitted by Mohammad Adha. Kia Rondo or Naza Citra 2 Rondo is very different from the Naza Citra even it is sharing the same name. Meaning the number "II" after the "Citra" gives a lot of difference. Exteriorly and interiorly. Just take a look at this beautiful Kia Rondo with novus bodykit.
PICTURE OF NAZA KIA RONDO NOVUS VERSION WITH STYLE BODYKIT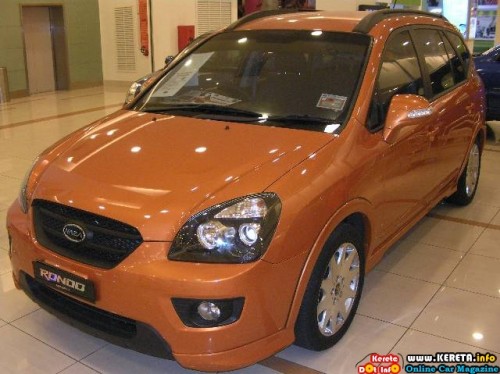 Fitted with new sport rims of Kia Rondo Novus like VIP style & simple wide bodykit put some spice on this Kia Rondo.
The back of this 7 seater MPV, even without any bodykit or custom made bodykit, shows the best rear looking among other MPV. This is a sporty MPV i would like say.
Kia Rondo Novus displayed at Penang.
Ok, here we got a little girl as a car model. What is your opinion? =)
The interior is still the same like basic model which shows a very nice and luxury dashboard.
The front bumper design & smoked headlamp, makes this Kia Rondo or Naza Citra II Rondo very special & unique.
Please follow and like us: