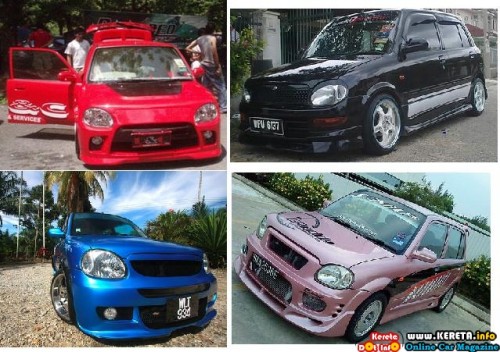 Perodua Kelisa is one of Malaysian's favourite mini compact car due to its simple & nice appearance and the performance of 1000cc (989cc) car is just impressive. But unfortunately Perodua has stopped its production just after Perodua Viva came out to Malaysia automotive market as Kelisa replacement model. Driving Perodua Kelisa is quite fun because it has a really good pickup compare to other car. The power to weight ratio is enough and you surely don't need a turbo charger for this twin cam DOHC 1000 (989) cc engine for Kelisa. Today I just want to share some pretty picture of modified Kelisa or custom bodykit Kelisa, it's history and full specification of Kelisa.
Perodua Kelisa with very low profile tyres and white sport rims. Painted with purple metallic, some strange colour but it looks suitable for this little cute car.
Usually Kelisa owners like to modify their cars to be a Daihatsu Mira version bodykit. As we all know, Kelisa is based on Daihatsu Mira or Cuore. Above is the custom design bodykit like Daihatsu Mira Gino.
Above and below, very clean and neat custom bodykit of Perodua Kelisa in white. Fitted with air scoop on the hood and rear diffuser makes this cute car have a fierce genetic on the outside.
The Kelisa was, in all its releases, based on a fifth generation Daihatsu Mira, and is named after the Arowana fish native to Malaysia (ikan kelisa). The Kelisa was made available in two iterations: The first, which debuted in 2001, was intended to bear similarities to the 1999 Perodua Kancil at the front, including the headlights and grille; the second iteration, introduced in 2002, was given a minor facelift to feature modified and lower profile bumpers, and a grille that extended wider to reach the headlights. The second iteration would go on to replace the original Kelisa outright in the Perodua lineup. The Kelisa was popular amongst Malaysian drivers for its relatively good power-to-weight ratio, affordable price and low fuel consumption at around 17km/l to 20km/l
The Kelisa was released in several "special" editions. A limited-edition Kelisa, based on the original variant, prominently sports two-toned colored paintwork and minor interior modifications. Later, the interior of the second Kelisa was given a few modifications and the exterior a modern Metallic Pearl Jade finish—a light double metallic colour—which Perodua marketed under the name Kelisa Imago.
As Perodua has sold its vehicles to the United Kingdom since 1997, the Kelisa was introduced into the country in January 2002 as a replacement to the Nippa, a rebadged Kancil.
Production and marketing of the Kelisa, along with the Kancil, was officially halted following the release of the Perodua Viva in May 2007. Due to similarities in size and vehicle model they are derived from, the Viva is intended to succeed the Kelisa and the Kancil, both of which had been in production for 6 years and 13 years, respectively.
Wow! Mini Cooper? Nop! Its a Kelisa with custom design Mini cooper style with wide bodykit and Mini cooper racing stripe. This Kelisa can really be a Mini Cooper "wannabe"
Kelisa fitted with Daihatsu Mira Cuore custom bodykit. This one is really simple yet good looking modification on Kelisa. The owner change the headlamp of Perodua Kelisa to the Mira Cuore and I think it is better than the stock Kelisa Headlamp. It is surely better if there is smoked projector headlamp for Kelisa.
PERODUA KELISA FULL SPEC ( SPECIFICATION )
KELISA EX, GXi & EZi
Engine
 EJ-VE petrol, transverse, water cooled, in-line 3 cylinder, DOHC, 12 valve with VVT
 
Bore/stroke
 72 x 81 mm
 
Capacity
 989 cc  (also available in 850 cc for kelisa 850 edition)
 
Max Power
 55PS (40.5kW) at 5,200 rpm
 
Compression ratio
 10.0:1
 
Max Torque
 88.3 Nm at 3,600 rpm
 
Fuel System
 Electronic sequential fuel injection
 
 
  
 
Transmission
 
 Manual 5-speed
 Automatic 3-speed
 
1st
 3.417
 2.731  (A)
 
2nd
 1.947
 1.526   (A)
 
3rd
 1.250
 1.000   (A)
 
4th
 0.865  
   
 
5th
 0.707
  
 
Reverse
 3.143
 2.290   (A)
 
Final Drive
 3.938
 3.966   (A)
 
Clutch
 Dry single plate with diaphragm spring 
  
Suspension  
 
Front
 Independent MacPherson strut, coil springs, anti-roll bar
 
Rear
 Semi-trailing arm with 3-link location, coil springs, beam axle 
 
  Brakes Solid front discs/rear drums with servo assistance
     
Steering   
Type
 Rack and pinion with power assistance
 
Turning circle
 4.6 metres 
  
Wheels/tyres
 4.5J with 155/65R13 
 
Fuel Economy 
  
Urban (mpg)
 44.1
 36.7
 
Extra-urban (mpg)
 64.2
 48.7
 
Combined (mpg)
 55.4
 43.5
 
CO2 (g/km)
 121
 153
 
Fuel tank capacity
 40 litres  
 
Load capacity
 155/426 litres VDA   
  
Performance   
0-60 mph
 14.8 secs
 17.2 secs   (A)
 
Top Speed
 88 mph / 140.8km/h
 87 mph  / 139.2km/h (A)
 
Dimensions   
Length
 3480 mm
 
Width
 1490mm
 
Height
 1420 mm
 
Interior length
 1720 mm
 
Interior width
 1220 mm
 
Interior height
 1170 mm
 
Wheelbase
 2345 mm
 
Track front
 1310 mm
 
Track rear
 1280 mm
 
Min ground clearance
 130 mm
Weight
 
Kerb weight
 EX 760kg, GX 760kg, EZ 770kg
 
Gross vehicle weight
 1270 kg
A BLUE Modified Kelisa. You can see the big door visor and wide tyres that makes this Kelisa outstanding instead of its custom bumper for Kelisa.
You own a Kelisa?  Tell us you experience on driving and modifying this cute yet great car! 
Please follow and like us: