(Modified  Subaru BRZ picture)
New 2013 Subaru BRZ sports car launched in Malaysia. View specification reviews, prices, main specs, pictures, monthly installment, fuel consumption, engine performance, dimension,  Subaru BRZ problems for discussion and user or owners test drive comments now available here at http://kereta.info.
Price range : RM240K
Subaru BRZ Engine Specification
Engine Performance Horsepower hp : 197
Engine pickup Torque Nm : 205
Top speed km/h : 225 kmh 
0-100 km/h : 8 seconds
Subaru BRZ Fuel Consumption FC km/litre @ sen/km @ litre/100km : 7.1 l/100km
Subaru BRZ General Specification
Dimension (Length x Width x Height) mm : –
4240mm 1976mm 1425mm
Weight kg : – 1230
Subaru BRZ Review
Subaru BRZ Review / test drive : 
Exterior = 3/3 star*
Interior = 3/3 star*
Handling = 3/3 star*
Comfort  = 3/3 star*
Engine   = 3/3 star*
*1 star = not so good
*2 star = average
*3 star = excellent 
Subaru BRZ Modified Spec
Modification kit available: 
Body kit aerokit + skirting + spoiler + leather seat + engine performance + lamps + radio audio system speakers and player + sport rims + tyres + bumper 
Subaru BRZ Maintenance costs
Monthly payment calculation :-
 (interest rate x 9 years + 100) /100 x (car price – downpayment) / 108 months = RM / month
Yearly insurance road tax calculation : –
Current sum insured car price x 0.03 – NCDiscount + road tax fee = RM / year (estimation)
Major and minor service adviseable to be done at authorised service center in Malaysia: –
The cost of service depends on what type of engine oil, ATF fluid and service charge in RM. 
SHARE  Subaru BRZ additional information details
Please share your comments.
If you are the owner, you are welcome to give some reviews on the car spec, maintenance, service center charges/fee ( caj major minor servis ), daily fuel consumption ( jimat penggunaan minyak ), technical problem (masalah kereta), better engine oil and fuel and engine modification (prestasi enjin). 
Discuss on body kit / skirting modification, diy modified gadget / car accessories, how much yearly insurance and road tax (insuran / cukai jalan) rm per year, interior mod (modifikasi), quality / reliability, test drive reviews (pendapat pandangan pandu uji) , spare parts, tyres (saiz tayar) and sport rims 17 / 18 inch suitable and all other related issues here.
This post is related to  Subaru BRZ specification bodykit body kit bumper sport rim spoiler head tail lamp modification interior engine performance price harga rm car review test drive skirting problem discussion spec spoiler and accessories
Tagged as:  Subaru BRZ,  Subaru BRZ specification, bodykit  Subaru BRZ, body kit,  bumper  Subaru BRZ,  Subaru BRZ headlamp, sport rim  Subaru BRZ, spoiler  Subaru BRZ, tail lamp,  Subaru BRZ bumper, modified  Subaru BRZ, Leather seat,  Subaru BRZ interior, Audio system, engine  Subaru BRZ,  Subaru BRZ price, rm, harga  Subaru BRZ, skirting,  Subaru BRZ review,   Subaru BRZ spec,  Subaru BRZ malaysia,
Other  Subaru BRZ Specification + Features + news : –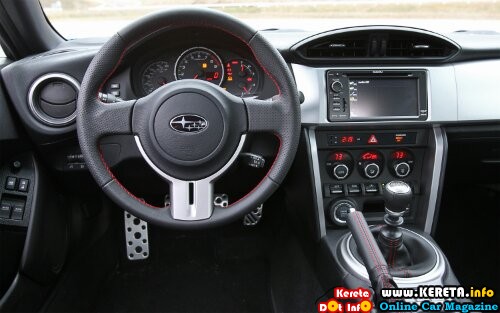 The Subaru BRZ, which stands for 'Boxer engine, Rear-wheel drive, Zenith', is a joint project involving Subaru and Toyota Motor Corporation that aims to build a pure sports car for a wide range of customer's demographic.
BRZ's Performance
Like the new Toyota 86, the new Subaru BRZ features the unique Horizontally-Opposed Boxer engine that embodies Subaru's passion for developing the ultimate sports car. The newly developed FA engine combines Toyota's direct fuel-injection technology with Subaru's boxer engine that enhances the BRZ's dynamics and fuel efficiency. The new Subaru BRZ is powered by a 2.0-litre DOHC 16-valve four-cylinder engine that delivers 197HP at 7,000rpm with 205Nm of torque between 6,400-6,600rpm.
The engine is mated with a six-speed automatic transmission and a Torsen limited-slip differential that launches the BRZ from standstill to 100km/h in around six seconds. Demonstrating its fuel efficiency, the BRZ returns an average fuel-consumption of just 7.1l/100km.
Subaru Features
Thanks to the exterior design, lightweight construction, seating position and the boxer engine, the BRZ is now lighter and has a lower centre of gravity that increases the handling precision. The new BRZ is also equipped with the advanced 'Vehicle Stability Control' system which preserves optimum driving dynamics, especially when it is pushed to the limit.
Other standard features in the new 2013 Subaru BRZ include keyless access with a push start button system, paddle shifts, multi-information display, dual-zone automatic air-conditioning system, 17-inch wheels and a twin tail muffler cutter.
NEW SUBARU BRZ MALAYSIA SPECIFICATION REVIEW – A FIERCE TIGER WITH BOXER ENGINE
Please follow and like us: