The new Peugeot 408 Sedan Malaysia CKD assembled in gurun launched. below full spec and info of Pug 408 malaysia.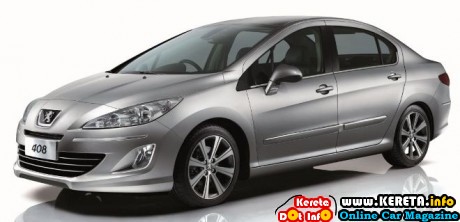 Title : NEW PEUGEOT 408 2.0 + 408 TURBO SPECIFICATION
Price (harga) RM : RM125,888 TURBO and RM109,888 2.0 LITRE
Installment / Monthly payment (Bayaran bulanan) : RM1330 per month and RM1164 per month at 10% downpayment
Dimension (Length x Width x Height) mm :
Engine Performance Horsepower hp : 163 & 145
Engine pickup Torque Nm : 240 & 200
0-100 km/h acceleration : 9.2 seconds
Top speed km/h : 215
Fuel Consumption FC km/litre sen/km litre/100km : 8.2l/100km
Review : Exterior + Interior + handling : Nice in front, rear looks a bit weird, handling and interior not much different with Peugeot 308 except it is slightly bigger.
Other Specification & Features & News & Promo:
Nasim Sdn Bhd, the official distributor of the Peugeot brand in Malaysia, has launched the highly-anticipated all-new Peugeot 408 four-door sedan.   From the front, the 408 features Peugeot's trademark feline headlights, thin chrome strips on the radiator grille, and sculptured lines on the bonnet that flow blends naturally with the steeply raked windscreen.   Seen from the sides, the 408's carved wheel arches and rising body line from the front wings towards the rear lights project and an image of a dynamic, modern and robust vehicle.
Its ruby red tail lights are trimmed with a clear white strip that hint at a lion's claws within the light cluster which takes on the form of three diagonal strips at night. This unique tail light styling is a tribute to Peugeot's historic models such as the 307 CC and the 504 coupe.   Offering segment-leading performance, space, elegance and safety, the 408 promises to redefine Malaysia's C-segment market currently dominated by Japanese brands.   Sold in two variants, the 408 Turbo and 408 2.0 are priced (on-the-road with insurance) at RM125,888 and RM109,888 respectively.   The 408 Turbo have been tuned for a sportier ride while the 408 2.0's suspension is set for comfort.   Under the 408 Turbo's bonnet is a four-cylinder 1.6-litre twin scroll turbo high pressure engine with direct injection that pumps out 163bhp and 240Nm of torque, making it the most powerful C-segment sedan in the market.   Equipped with a six-speed auto adaptive transmission with Tiptronic and a sport mode, the 408 Turbo can accelerate from 0-100kph in 9.2 seconds and has a top speed of 215kph.   Other key features of the 408 Turbo include premium leather seats, leather-wrapped steering wheel with aluminium inserts, auto-dimming rear view mirror and a rear armrest with two cup holders.
The 408 2.0, meanwhile, is powered by a four-cylinder 2.0-litre engine that produces 145bhp and 200Nm of torque fitted with an auto adaptive gearbox with Tiptronic and a sport mode.   Both variants feature cruise control with a speed limiter, 17-inch alloy wheels, headlamps with "Follow Me Home" timer, sensor-activated headlights and wipers and automatic retractable side mirrors.   In terms of safety, both variants feature two smart airbags, anti-lock braking system, electronic brakeforce distribution, electronic brake assist, among others.
The car has also been designed with a double-impact force dissipation channel to provide maximum passenger compartment protection.   The 408 Turbo also comes with driver and front passenger side airbags, front and rear curtain airbags, electronic stability programme (ESP) and anti-skid regulation (ASR).   For sure-footed ride and precise road handling, the 408 Turbo and 408 2.0 are fitted with front independent MacPherson-type struts with anti-roll bar while the rear suspension comprises of a deformable U-shaped cross member with integrated anti-roll bar.
Peugeot 408, an all-new C-segment sedan based on underpinnings of the 308 hatchback. Two variants were introduced at the launch yesterday, with 2.0-litre naturally aspirated model priced at RM109,888 with insurance followed by a higher-specced 1.6 Turbo model at RM125,888.
The 408 2.0 is powered by a 1,997cc 16-valve twin cam engine making 145hp and 200Nm paired to a 4-speed automatic gearbox with Tiptronic override. The more expensive 408 Turbo gets the familiar 1.6-litre twin-scroll turbo Prince engine tuned to 163hp (up from the usual 156hp) and 240Nm mated to a 6-speed automatic transmission.
Both versions get all-round disc brakes, front ventilated, as standard. For suspension, the 408 sits on MacPherson struts up front and, according to the brochure, a 'deformable U-shaped cross member located by two arms and a hollow anti-roll bar' (English: torsion beam) at the rear. According to Peugeot, the 2.0 model gets a comfort-biased setup, whilst the Turbo model gets sportier rates.
The 408 comes equipped with features such as dual-zone air-con control, rear blowers, six-speaker audio, CD/MP3 playback, USB/Bluetooth connectivity, instrument panel LCD, tilt and telescopic steering adjust, cruise control, 17-inch alloys, auto headlamps, auto wipers and one-touch power windows with anti-pinch all-round. Boot space is an impressive 562 litres.
Features exclusive to the 408 Turbo are leather seats, leather-wrapped steering wheel with aluminium inserts, auto-dimming rear view mirror, and a rear armrest with two cup holders. It also gets additional side and curtain airbags, ESP, and traction control. Safety equipment standard on both models include dual airbags, ABS, EBD, and brake assist.
The all-new 408 is offered with a five-year unlimited mileage warranty.
Inside, the 408 claims the largest cabin space in its class thanks to a long 2,710mm wheelbase, a width of 1,815mm and height of 1,525mm.   Other equipment include automatic dual-zone air-conditioning system with rear air-conditioning vents, World In Peugeot Sound with six speakers with CD/ MP3 playback capability, USB and Bluetooth connectivity, instrument panel LCD, tilt and telescopic steering, one-touch power windows with anti-pinch for all four windows and a 562-litre boot.   "The all-new 408 is ideal for young professionals with families who are looking for a car that offers space, performance and elegance," said SM Nasarudin SM Nasimuddin, Joint Group Executive Chairman of the Naza Group of Companies at the launch of the 408 at the new Peugeot Blue Box Glenmarie tonight.   SM Nasarudin said the 408, which is manufactured at Naza Automotive Manufacturing (NAM) in Gurun, Kedah would also be exported to regional markets in the coming months.
He said Peugeot distributors from Australia, Thailand, Taiwan, Indonesia, Singapore, Sri Lanka, Brunei, Nepal, Bangladesh and the Philippines had recently visited NAM to get a closer look and test drive the 408.   The 408 is an international model by Peugeot that is aimed at growing the French carmaker's global sales volume. In 2011, Peugeot sold 81,000 units of the 408.   Nasim chief operating officer Datuk Samson Anand George said the 408 would contribute significantly to the company's sales target of 9,300 units this year, which will represent a 72% jump from its sales in 2011.   He said the 408 comes with Nasim's recently introduced five-year warranty with unlimited mileage.   Together with Nasim's existing lifetime 24-hours Peugeot Assistance service and its exclusive Peugeot Privilege membership, he said the company aims to provide the best ownership experience for its customers.   The 408 was launched at the new Peugeot Blue Box Glenmarie which is scheduled to commence operations in June.
Built at a cost of RM15mil, the 82,000 sq ft facility will be Nasim's flagship outlet in the country and will house the largest Peugeot service centre in the country with a capability of servicing 66 cars a day.
PEUGEOT 408 NEW LAUNCH MODEL GET A NEW PEUGEOT 408 PROMO
*SPACE*PERFORMANCE*ELEGANCE*
PEUGEOT 408 2.0 OTR RM109,888
__ 5 YEARS WARRANTY UNLIMITED MILEAGE
__ 24 Hours Peugeot Assistance
__ Peugeot Privilege
__ HIGH TRADE IN VALUE
__ READY STOCK (LIMITED STOCK)
PEUGEOT 408 2.0 ..4 INLINE CYLINDERS ..DOHC 16 VALVE,VVT(VARIABLE VALVE TIMING) ..MAX HORSEPOWER 145bhp @ 6000rpm ..MAX TORQUE 200Nm @ 4000rpm ..AUTO ADAPTIVE GEARBOX WITH TIPTRONIC & SPORT MODE ..Wheel size : 215/50 R17 ..Max Speed : 195km/h
—Exterior ..Rear parking sensors ..Headlamps delay security illumination (FOLLOW ME HOME) ..Sensor activated headlights and wipers ..Automatic retractable side mirrors
—Interior ..BOOT SPACE >> 562litres ..Automatic dual zone air-conditioning system ..Rear passenger air conditioning vents ..USB and bluetooth connectivity ..Cruise control with speed limiter*
—Safety ..2 smart airbags for driver and front passenger ..ABS + EBD + EBA ..Peugeot transponder immobilizer security
COLOUR : Alphine White, Velvet Silver, Metropolis Bronze, Aster Grey, Bourrasque Blue, Premium Black
LOAN ARRANGABLE:- _ Interest Rate 2.4% up to 9yrs _ Fast Approval
DOCUMENT NEEDED: _I/C _DRIVING LICENSE _3 MTH PAYSLIP _3 MTH BANK STATEMENT OR EPF STATEMENT
ENGINE 1.6 TURBO MAX HP 163 @600RPM MAX TORQUE 240NM @1400RPM
TRANSMISSION 6 SPEED AUTO ADAPTIVE GEARBOX WITH TIPTRONIC AND SPORT MODE FUEL TANK 60 SPEED 215 KM/H 0-100KM/H 9.2 SECONDS 8.2 LITRES /100KM EMISSION EURO 5
EXTERIOR HALOGEN HEADLAMPS WITH AUTO FUNCTION AND MANUAL HEIGHT ADJUSTMENT 17 ALLOY RIM REAR PARKING SENSORS,FRONT AND FOG LIGHT HEADLAMPS DELAY SECURITY FOLLOW ME HOME SENSOR ACTIVATED HEADLIGHT AND WIPERS AUTOMATIC SIDE MIRRORS
INTERIOR DUAL ZONE AIR CONDITIONING SYSTEM PASSENGER AIR CON LEATHER SEAT SLIDE AND HEIGHT ADJUSTABLE FRONT CENTRE ARMREST WITH STORAGE 6 SPEAKERS
USB/AUDIO CONTRO STALK AT STEERING WHEEL CRUISE CONTROL WITH SPEED LIMITER AUTO DIMMING REAR VIEW MIRROR ISTRUMENT PANEL LCD DISPLAY SPEED LIMITER,CRUISE CONTROL.TRIP DISTANCE RECORDER+++++
SAFETY 6 AIRBAG ESP.ABS.EBD.EBA.ASR.2 ISOFIX IMMOBILIZER
Please follow and like us: