Nissan Malaysia release the New Nissan Teana with new attractive package which includes new teana Body kit and Navigation System to compete with the nearest rival such as Accord VS Camry.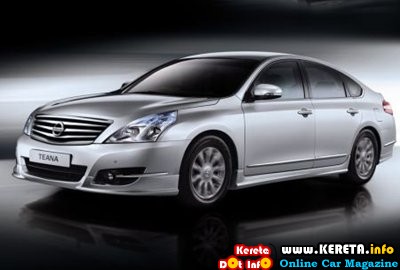 Edaran Tan Chong Motor Sdn Bhd Monday announced that the award-winning Nissan Teana, both the 2.0L and 2.5L variant, would now come equipped with an Aerokit and a new built-in Multimedia Navigation System.
NEW NISSAN TEANA WITH AEROKIT
It said the Teana Multimedia Navigation System, which uses GPS (Global Positioning System) technology and digitised maps on a clear visibility seven-inch high resolution LCD touch-screen monitor, would provide easy-to-understand smart 3D entrance guidance with photo realistic lane and junction view.
With its multi-lingual support, it would offer user-friendly options to locate target destinations, it said.
"The navigation system also functions as a reverse camera with night vision compensation," Edaran Tan Chong said in a statement today.
The company is now also offering an attractive hire purchase rate of 2.18 per cent per annum till September 30, 2011.
"During this promotion period, customers who purchase a Nissan Teana will get the Multimedia Navigation System worth RM4,000 and Aerokit worth RM3,000 for free," the company said, adding that existing Nissan Teana owners can purchase the Multimedia Navigation System with a special price of RM2,500 and RM3,000 for the Aerokit.
The Teana 2.0 is priced from RM141,000, while the Teana 2.5 goes for RM173,000.
Please follow and like us: