New 2013 NISSAN GRAND LIVINA in Malaysia specification reviews, prices, main specs, pictures, monthly installment, fuel consumption, engine performance, dimension, NISSAN GRAND LIVINA problems for discussion and user or owners test drive comments now available here at http://kereta.info.

Price range : RM86,827 – RM89,827
NISSAN GRAND LIVINA Engine Specification
Engine Performance Horsepower hp : [email protected]
Engine pickup Torque Nm : [email protected]
Top speed km/h : 180kmh
0-100 km/h : 12.6seconds
NISSAN GRAND LIVINA Fuel Consumption FC km/litre @ sen/km @ litre/100km : 7.2 litre/100km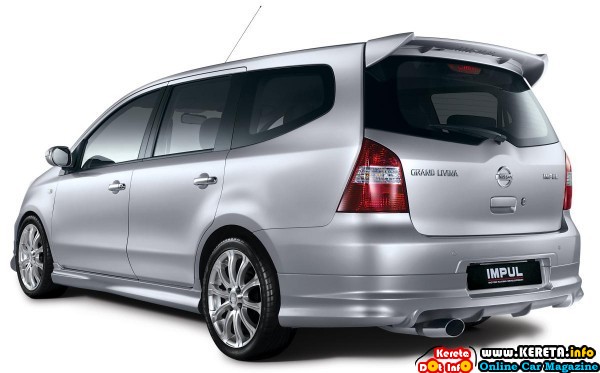 NISSAN GRAND LIVINA General Specification
Dimension (Length x Width x Height) mm : 4420 x 1690 x 1590
Weight kg : 1245
NISSAN GRAND LIVINA Review
NISSAN GRAND LIVINA Review / test drive :
Exterior = 2/3 star*
Interior = 2/3 star*
Handling = 2.5/3 star*
Comfort = 2.5/3 star*
Engine = 2.5/3 star*
*1 star = not so good
*2 star = average
*3 star = excellent
NISSAN GRAND LIVINA Modified Spec
Modification kit available:
Body kit aerokit + skirting + spoiler + leather seat + engine performance + lamps + radio audio system speakers and player + sport rims + tyres + bumper
NISSAN GRAND LIVINA Maintenance costs
Monthly payment calculation :-
(interest rate x 9 years + 100) /100 x (car price – downpayment) / 108 months = RM / month
Yearly insurance road tax calculation : –
Current sum insured car price x 0.03 – NCDiscount + road tax fee = RM / year (estimation)
Major and minor service adviseable to be done at authorised service center in Malaysia: –
The cost of service depends on what type of engine oil, ATF fluid and service charge in RM.
SHARE NISSAN GRAND LIVINA additional information details
Please share your comments.
If you are the owner, you are welcome to give some reviews on the car spec, maintenance, service center charges/fee ( caj major minor servis ), daily fuel consumption ( jimat penggunaan minyak ), technical problem (masalah kereta), better engine oil and fuel and engine modification (prestasi enjin).
Discuss on body kit / skirting modification, diy modified gadget / car accessories, how much yearly insurance and road tax (insuran / cukai jalan) rm per year, interior mod (modifikasi), quality / reliability, test drive reviews (pendapat pandangan pandu uji) , spare parts, tyres (saiz tayar) and sport rims 15 16 17 / 18 inch suitable and all other related issues here.
This post is related to NISSAN GRAND LIVINA specification bodykit body kit bumper sport rim spoiler head tail lamp modification interior engine performance price harga rm car review test drive skirting problem discussion spec spoiler and accessories
Tagged as: NISSAN GRAND LIVINA, NISSAN GRAND LIVINA specification, bodykit NISSAN GRAND LIVINA, body kit, bumper NISSAN GRAND LIVINA, NISSAN GRAND LIVINA headlamp, sport rim NISSAN GRAND LIVINA, spoiler NISSAN GRAND LIVINA, tail lamp, NISSAN GRAND LIVINA bumper, modified NISSAN GRAND LIVINA, Leather seat, NISSAN GRAND LIVINA interior, Audio system, engine NISSAN GRAND LIVINA, NISSAN GRAND LIVINA price, rm, harga NISSAN GRAND LIVINA, skirting, NISSAN GRAND LIVINA review, NISSAN GRAND LIVINA spec, NISSAN GRAND LIVINA malaysia,
Other NISSAN GRAND LIVINA Specification + Features + news : –
Please follow and like us: