Nissan Almera driven and we have some short test drive review on the new sedan which comes in Malaysia to compete with the Toyota Vios and Honda City in the 1.5 cc sedan compact car segment.
Comparing to those cars, we found that the new almera have a very spacious leg room especially at the back seat. Even more spacious than car over rm100k in Malaysia such as honda civic. That is the best part in Almera. The rear seat is very comfortable. While the front seat is about the same with others.
The interior dashboard looks ok except on the air conditioning button which has an ugly circle shape. The speedometer is nice with white backlight. Start button on the full spec is cool features.
Although the price is cheaper especially for E variant manual at rm66k and auto 4 speed at around rm69k, Nissan Malaysia has stripped down a lot of features on the E variant including steel rims, no navigation, no leather seat, no push start, etc.. They provide a different packages for you to add on your new Cheap Almera.
The performance review on Almera has a bit sad story. The 1.5 litre 102 horsepower at 6000 rpm and torque value of 139 Nm at low 4000rpm is actually more on the better fuel consumption ride, not the performance. The pedal response also a bit slow compare to others maybe due to the drive by wire system. However, Nissan offers a smooth acceleration and quite engine for your comfort.
The ride and handling also more on the city side and comfort suspension. However, the bad thing is the comfortable suspension and light feel steering wheel gives bad stability at high speed and bumpy road. The steering feels like vios, not stable at more than 90 kmh especially when passing a bumpy surfaces at high speed, you need to hold your steering wheel very well.
The almera fuel consumption is around 14km/litre rm 13 cent per km for highway normal driving according to the sales person which is a nice real life value for a sedan with 1.5 litre engine. But we believe this car can go more for long distance highway drive due to the high torque at 4000rpm, around 1050kg light kerb weight and aluminum alloy engine. Some test drive reviews claim above 20 km/ litre which is similar to perodua viva fc.
The all new Nissan Malaysia specification and Price (harga)
Monthly installment is arounf rm700 for lowest spec auto, 10% downpayment and 2.4% interest rate per year for Nissan Almera.
If you are the owner of new nissan almera in malaysia, you are welcome to give some reviews on the car spec, maintenance, service center charges/fee ( caj major minor servis ), daily fuel consumption ( jimat penggunaan minyak ), technical problem (masalah kereta), better engine oil and fuel and engine modification (prestasi enjin).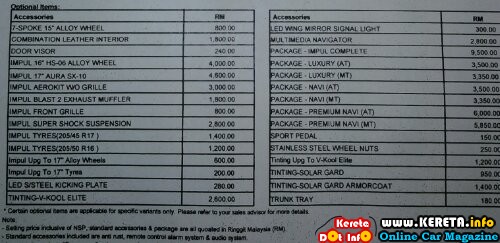 Kindly share on body kit / skirting modification, diy modified gadget / car accessories,  how much yearly insurance and road tax (insuran / cukai jalan), interior mod (modifikasi), quality / reliability, test drive reviews (pendapat pandangan pandu uji) , spare parts, tyres (saiz tayar) and sport rims 15 16 17 / 18 inch suitable and all other related issues here.
– Do you want to buy this car for sale? Check out deals, discounts, promotions, prices (harga murah), specs, reviews, ratings, brochure, pamphlet & photos available here. Use our search form to find out if  there is any more info related to this car. Thanks for reading.
Please follow and like us: