All-new Isuzu D-Max launched in Malaysia. The DMax price range from RM69,799 to RM100,689, the new 2013 Isuzu D-Max with new facelift and diff specifiction 4×2 2.5-litre, a 4×2 2.5-litre VGS, and three 4×4 2.5-litre VGS turbo diesels. The new Dmax facelift just got better. New front face bumper and grilles, bigger space and more features.
New D-Max Malaysia engine brought forward to power the majority of the new variants of Isuzu D-Max models is the 2.5-litre four-cylinder VGS (Variable Geometry System) turbo diesel. Maximum torque output from the engine sees a total of 320Nm offered between 1,800 to 2,800RPM; there is also an impressive 136PS (100kW) on tap. The new engine is poised to consume less fuel and produce more performance compared to the out-going 3.0-litre.
The venerable Isuzu D-MAX has long set the benchmark in reliability, durability and fuel efficiency. Its reputation for balanced performance and comfort have been examplary, making it one of the country's favourite pick-up trucks. Today, the all-new second-generation Isuzu D-MAX sets about broaching new boundries in pick-up truck design with a bigger, stronger, more efficient, comfortable and safer vehicle."What the original D-MAX did was to set exceedingly high standards in durability, reliability and fuel efficiency.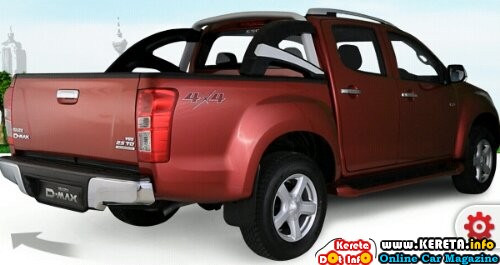 With the all-new Isuzu D-MAX, the engineers have not only enhanced these core features, the entire package including comfort, safety and performance have also been elevated to new heights," said CEO of Isuzu Malaysia Kimitoshi Kurokawa.The all-new Isuzu D-MAX sports a larger body and bed, allowing the cabin and cargo area to be significantly more spacious. The sleek new wedge-shaped body profile was created with efficiency in mind. The new shape benefitted from time in the Japan Railway Technical Research Institute's wind tunnel facilities, the same facilities that develop Japan's famed bullet trains.
The ensuing result is the lowest coefficient of drag (Cd) in its class, making the all-new Isuzu D-MAX a quieter and more efficient vehicle especially at highway speeds.Apart from its sleek and stylish new exterior, an area that will impress is in the fresh new interior. This capacious and stylishly-finished cabin features key innovations, providing driver and passengers with an SUV-like feel. Every feature has been carefully designed to contribute towards driver and passenger comfort, ease of use and safe recognition. An example is in the position of the four-wheel drive mode selector that was previously mounted on the dashboard fascia. Now, a knurled knob sits closer to the driver just aft of the gear lever, allowing the driver to select the drive mode without needing to take his eyes off the road.

The seats in the all-new Isuzu D-MAX are designed with long-distance comfort in mind. The front seats offer excellent support while rear seat backs have the best angle in class. All three passengers have their individual head restraints as they do three-point seat belts. In the absence of a centre passenger, a foldaway arm rest can be lowered for added comfort.
Commensurate with the level of interior comfort, the all-new Isuzu D-MAX is equipped with an excellent premium audio system that produces top-notch sound reproduction. Engineers cleverly embedded a pair of class-first 'exciter' tweeters into the roof lining above the head of the listeners to create a grand spatial soundstage.Under the bonnet sits a new 2.5-litre Super Commonrail engine featuring a computer-controlled Variable Geometry System (VGS) turbo system.
This new engine not only provides improved throttle response and better high-end performance, Isuzu engineers have managed to balance it with reduced exhaust emissions and lower fuel consumption. This new engine produces 100 kW/136 ps at 3,600 rpm with 320 Nm of torque between 1,800 rpm and 2,800 rpm, more than matching the performance figures of the previous 3-litre model. The all-new Isuzu D-MAX now comes with a choice of 5-speed manual or 5-speed automatic gearboxes, the latter with sequential shifting mode for more driver control.In keeping with its new level of sophistication, the all-new Isuzu D-MAX receives a host of active and passive safety features aimed at satisfying the global demand for safer vehicles and to meet stringent Euro NCAP safety standards.
Apart from the obvious improvements made to chassis and body dynamics that provide the Isuzu D-Max with legendary handling, the all-new Isuzu D-MAX now comes with such sophisticated features as Traction Control System(TCS), Electronic Stability Control (ESC), ABS with Electronic Brake Distribution (EBD) and Brake Assist.Inside, the seats offer whiplash protection while Isofix child seat mounts are available in the rear making the all-new Isuzu D-MAX a very capable vehicle for growing families.Despite the high specification levels and excellent ride comfort, the soul of the all-new Isuzu D-MAX remains tough and durable.
It continues to provide owners with a robust and dependable vehicle that they can confidently rely on for all the daily chores."I believe that with the strong Isuzu reputation for durability, reliability and fuel efficiency and the fact that the new car has made great strides in areas of design, comfort and safety, our all-new Isuzu D-MAX will satisfy a significantly wider audience than before. Therefore our target of selling 8,200 units of Isuzu D-MAX this year looks promising," added Kurokawa.
Only the entry-level 4×2 Direct Injection Diesel Turbo Double Cab receives a non-VGS engine.
Of the five new Isuzu D-Max variants made available, only the range-topping version gets a five-speed automatic, where the rest get five-speed manual boxes. The automatic transmission features an overdrive top gear complete with a torque converter lock-up that improves fuel-efficiency on highway drives.
Exterior Styling:
The new design of the Isuzu D-Max stems from the philosophy of producing a 4×4 that's bolder, more aggressive and fluidic. With customer feedback thrown in to the mix, the front end sees the addition of more rounded edges, new headlamps designed to flow with the bodywork, and an overall more assertive, dynamic look.
At the rear, the tail lamps now feature LEDs for improved luminosity and lifespan. The overall design of the car is a solution to finding more function to follow form, with the Isuzu D-Max proving to be one of the most aerodynamically efficient vehicles in its class; a drag coefficient 5% less than any of its competitors make for better fuel consumption on longer highway journeys.
Interior Design:
There is particularly more room inside the new and improved cabin. The "SUV-like" interior – as Isuzu claims – offer more spaciousness, comfort and refinement; door cards, flat floors and more room under the dashboard help to create this.
The instrument cluster now features brighter displays with electro-luminescent meters that offer the driver a fresh look at all that's going on with the car. Also on the instrument cluster, is a multi-information display panel that makes its way into the Isuzu D-Max, and features information such as fuel-consumption figures, remaining range and average speeds.
The center console now has a rotary dial that simplifies the operation of the 4×4 system – you need only turn the dial in either direction to switch between 4×2 and 4×4 modes; the selection from 4×2 to 4×4 High range can be made even while driving up to 100km/h.
In the cabin, you will also find a Premium Audio System; six speakers that offer quality surround sound tunes unlike any other within its class. Music controls are also located on the steering wheel, and can be easily swapped between Bluetooth connectivity and mobile phone pairing.
Safety:
The Isuzu D-Max also comes equipped with some pretty impressive safety features to meet Euro-NCAP safety standards. Passengers at the front enjoy dual airbags – not enough for the entire cabin, in our opinion – while rear passengers have three-point safety seatbelts.
Through its new chassis design, Isuzu have also greatened the structural integrity of its 4×4 to better handle crashes and whiplash as a result.
Active safety features in the Isuzu D-Max include an Isuzu Gravity Response Intelligent Platform, which helps the D-Max maintain a more predictable posture amidst difficult driving conditions –something that was demonstrated at the launch event (see photos).
Other active safety features include Traction Control, Electronic Stability Control, ABS and EBD (Electronic Brake-force Distribution).
Buyer's Guide:
If you liked the out-going model, you're going to love the all-new 2013 Isuzu D-Max. It is probably the best-looking vehicle in its class, it's more spacious, comfortable and convenient, it improves on its awesome fuel-efficiency, and is more powerful than before despite the smaller capacity engine.
The new 2.5-litre turbo diesel engine with VSG makes a good amount of power, and when paired with the implemented aerodynamics makes for a truck that doesn't just do well off-road, but excels equally on-road.
Isuzu has boldly suggested that the D-Max is a truck that will see drivers move away from their sedans and head towards the 4×4, and it plans to achieve through its starting price of RM69,799 (note that this is for the 4×2 non-VSG base model).
PRICE LIST:
Isuzu D-Max 2.5-litre Direct Injection Diesel Turbo 4×2 Double Cab (MT): RM69,799 Isuzu D-Max 2.5-litre VGS 4×2 Double Cab Hi RIDE (MT): RM79,899 Isuzu D-Max 2.5-litre VGS 4×4 Double Cab (MT-L): RM85,499 Isuzu D-Max 2.5-litre VGS 4×4 Double Cab (MT): RM94,619 Isuzu D-Max 2.5-litre VGS 4×4 Double Cab (AT): RM100,689
SPECS: 2013 Isuzu D-Max
Price: RM69-100k Engine: 2.5-litre Diesel Turbo/ 2.5-litre VGS turbo diesel transmission: five-speed manual/ five-speed automatic Drive: 4×2/ 4×4 Power: 136PS, 320Nm of torque Key Features: Great styling, more spaciousness and refinement, more powerful VSG engine with better fuel consumption, Traction Control, Electronic Stability Control
Tag: Isuzu D-Max, Isuzu D-Max specification, bodykit Isuzu D-Max, body kit,  bumper Isuzu D-Max, Isuzu D-Max headlamp, sport rim Isuzu D-Max, spoiler Isuzu D-Max, tail lamp, Isuzu D-Max bumper, modified, Leather seat, Isuzu D-Max interior, Audio system, engine Isuzu D-Max, price, rm, harga, skirting, Isuzu D-Max review,  Isuzu D-Max spec, Isuzu D-Max malaysia,
Please follow and like us: