We have the opportunity to do a test drive session before the launching of the New Honda Freed and here I am going to share some of the point of special stuff that Freed offers with the price between RM112, 980 – RM115, 180. This Freed basically a CBU unit imported from Indonesia. Yearly payment for the Freed is Road Tax (1 year) RM120.00 and Insurance RM 3,069.50 for first year.
Looking on the outside, the Freed looks gorgeous from the front as a stylish mini van 4+2 seaters. Yes, this Freed is more towards mini van concept which has smaller room and high platform position. The both side automatic sliding door is really an amazing features for a car with that price. But the rear design is quite weird due to box design with small tail lamp which really look like a mini van.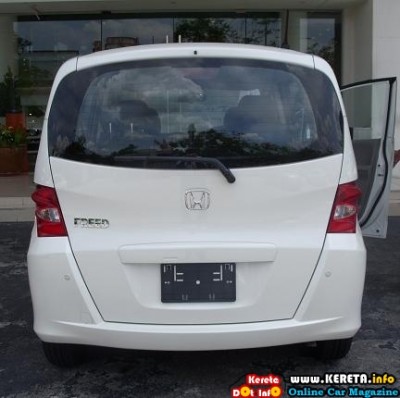 Driving in a city is not a problem with the 1.5 litre i-vtec Single Overhead Cam which has high torque at lower RPM 146Nm @ 4800 RPM for fuel efficiency as a 6 seater mini van. But the power is just enough for this car and dont expect this car to be super fast on the road with its only 1.5 litre engine and 1335 kg of weight heavier than the Perodua Alza at 1150kg.
[youtube:http://www.youtube.com/watch?v=H_WG4RmA-Do 425 344]
(Honda Freed Interior Video)
Eventhough the engine capacity is same for Alza and Freed at around 1500cc, the Freed has a better power supplied from it's i-vtech technology and the 5 speed auto transmission.
Full acceleration will makes this Freed roars loudly to 6000-7000 RPM but unfortunately, there is an unwanted plastic vibration sound while it roars between the RPM range comes from the bottom of center dashboard.
The dashboard is made of normal plastic material but the design is very unique and nice. This is the speciality of Honda car which have among the best dashboard design. The RPM meter is like a bar type which is very stylish. The gear knob quite confusing where sometimes you think that you already put the gear to D but it is acually in N due to the position of the gear is high and you hardly see sharply the position of gear.
Sitting on the driver seat is quite comfortable and suitable for those who like a high adjustment seat where you feel like in a SUV. But the rear passenger seat quite not comfortable at the second row due to feeling of too high and no outboard armrest.
(at third row seat)
The legroom is enough for second and third row. The second row seat can be adjusted fore and aft but has no height adjuster even it has a pilot single seat.
The braking effect is not so good compare to Honda City maybe due to its heavier weight and more momentum during cruise. The rear luggage compartment is quite similar to the alza boot Space. This freed also have the foot brake instead of the hand brake.
The interior dimension that can be occupied compare to Myvi (standard comparison but of course Freed is longer):
width = 145cm (Freed) – 137cm (Myvi)
height = 126cm (Freed) – 125cm (Myvi)
length = 243cm (Freed) – 188cm (Myvi)
The fuel consumption is slightly higher compare to New Honda City according to the sales agent and can achieve 17km/litre  or around RM0.105 per km.
Overall, this car is suitable for those who like to have a 6 seater 4+2 seat capacity and who drives more in the city.
Any review from you guys? kindly share here.
Please follow and like us: