All new Honda Accord 2014 2014 body kit catalogue brochure here consist of spoiler, full skirting front rear side skirt without additional accessories like diffuser, custom bumper, hood, canard, and other aero kit for Honda Accord in ABS (not PU or fiber) material. Total price of New honda accord bodykit modulo starts from RM1950 for five pieces body kit.
NEW HONDA ACCORD MODULO 2013 BODY KIT SKIRTING SPOILER ACCESSORIES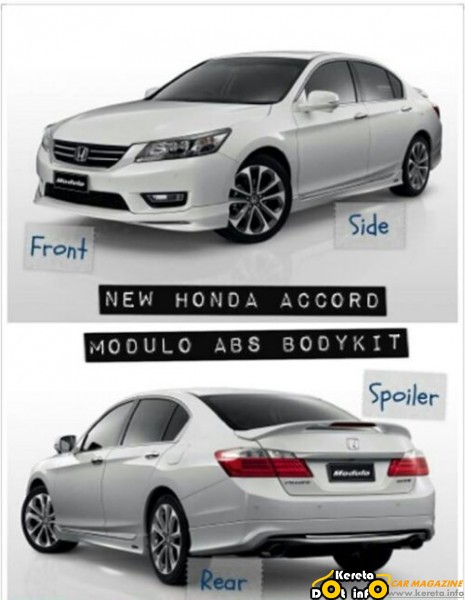 Bodykit Honda Accord available in @ abs/original oem material with paint. The body kit with the option of front grille, sport rims and other trim for Accord Modulo.
The price of body kit Honda Accord different with different material. The cheap aerokit will be the fiber bumper, skirting or spoiler. Better get a PU body kit for better quality and better surface for long lasting painting.
The price shown usually is the bodykit price with installation and new paint (harga siap pasang cat baru). You can ask for ready made bodykit with paint for extra charge around RM100 per part and with installation service around RM100 for full set bodykit Honda Accord if it is not painted. Colour available usually same with standard colour like white, silver, grey, red, black, blue etc.
We are not the seller of this bodykit, anything you can dicuss in the comment section below.
Which one do you like the most? Share with us :-)
Tag:
Bodykit, Honda Accord bodykit, bodykit Honda Accord, body kit, skirting, bumper Honda Accord, custom, skirt, Honda Accord skirting, modulo, bodykit accord, accord modulo,
Please follow and like us: