Early this month, UMW Toyota Motor has launched the new facelift of Toyota Camry in Malaysia.The new Camry will be available in three variants – Toyota Camry 2.0E, Toyota Camry 2.0G and Toyota Camry 2.4V. For the new Camry, there is a new grille, bumpers, and new wheels designs. The 2.0 models share a 16 inch wheel design while the 2.4 liter model gets a different design that is larger at 17 inches.While for the rear lamp, LED (light-emitting diodes) lighting is used.It offer advantages such as stronger and quicker illumination than conventional bulbs, thus alerting motorists behind more quickly when the driver is braking.
All prices are OTR with insurance in Malaysia.
Toyota Camry 2.0E : RM144,990.00
Toyota Camry 2.0G : RM154,990.00
Toyota Camry 2.4V : RM174,990.00
On the interior, the 2.0E model uses a new seat fabric design while the 2.0G and 2.4V models get a perforated leather trim for the seats.A similiar colour scheme are shared by all models.A 12V auxiliary power port is provided in the centre console for you to hook up your handphones, PDAs and music players .Front seats for the G and V cars have 8-way electrical adjustment including lumbar adjustment for the driver.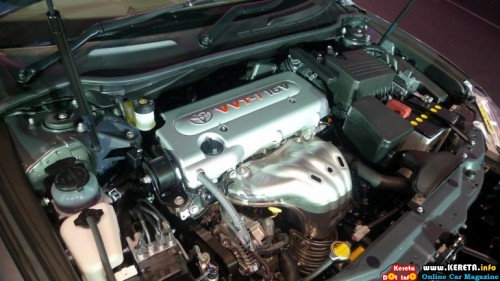 There are no engine changes so the same two engine options are offered – 2.4 litres and 2.0 litres.Power and torque ratings for the two engines are unchanged; 127 kW/167 PS at 6000 rpm with 224 Nm of torque at 4,000 rpm for the 2.4-litre and 108 kW/147 PS of power also at 6000 rpm and 190 Nm of torque at 4000 rpm for the 2.0-litre.
Start/stop button for the Camry 2.4V.
A new feature for the top of the line 2.4V is the Smart Entry & Start System which is basically keyless entry and go.Cruise control, previously available for the Camry 2.4V, is now also provided for the Camry 2.0G.The Camry 2.4V has a 5-speed Super ECT automatic transmission as standard while the Camry 2.0E and 2.0G use a 4-speed automatic transmission, also having Super ECT technology for smoother and more efficient operation.
Comparison with the old Camry.
NEW FACELIFT FOR TOYOTA CAMRY NOW IN MALAYSIA > FROM RM144 990 TO RM174 990 OTR.
MORE PICTURES BELOW.
Please follow and like us: