The pictures of modified preve turbo KDI edition rendered by kdi consist of 3 variant of Preve concept car rear view. The Proton Preve Special Edition SE, Preve R3 and Preve R7 full bodykit skirtings. Modification of Proton Preve special edition concept ideas includes custom rear bumper, rear skirting, rear led tail lamp, twin exhaust tip tail pipe, spoiler and emblem.
MODIFIED PREVE BODYKIT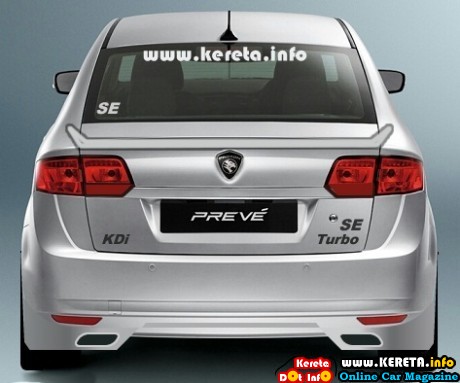 Modification ideas of proton Preve SE Special Edition turbo CFE. Rare SE spoiler, simple SE skirting, SE emblem, altered rear tail lamp. This idea of modification for Proton Preve 1.6 CFE turbo might be a sample for proton Preve owners or proton preve club members (ahli kelab kereta proton preve) for them to modify their rides..
Proton Preve R3 sports car or preve racing edition R3 bodykit is a bit extreme with bigger and wider preve spoiler, more fierce LED tail lamp design, R3 emblem with turbo emblem, relocated rear led brake lamp, double twin tip exhaust tail pipe and wider wheels with bigger sport rims and VIP lowered suspension wheel hella flush style!
The modified Preve R7 includes altered rear led tail lamp, double exhaust tips, unique spoiler, preve skirting body kit wider low profile sport rims for preve and R7 emblem.
MODIFICATION PREVE SE R3 R7 SPECIAL EDITION
The rear led tail lamp, brake light, signal lamp and plate number led light Preve SE turbo at night.
Well, this is just my imagination.. =) your opinion guys?
Please follow and like us: