This is one of the first car we see in Malaysia that follows the latest trend of Japanese VIP style – the leather material on the exterior surface (hood), full VIP accessories inside and nice matte black finishing. What lacks is only the rims which is more towards sports style rims. The modified Kelisa captured during V1 Autoshow in Puchong. View the images of Kelisa modified with VIP style below.
MODIFIED KELISA VIP
Very nice audio system
Interior of the modified Kelisa is properly wrapped with leather in black and white. COmplete with LED lighting effects and all VIP interior accessories such as VIP tray, dashboard cover, carpet mat and the VIP pillow.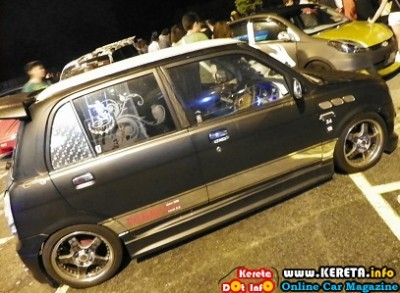 Matte black exterior added with golden stripe
The front hood fitted with leather material like the one we saw in Japan lately.
Thumbs up! Overall nice interior and exterior modification!
Please follow and like us: