Today we would like to share some of pictures and specification of Malaysia Royal Military / Malaysian Armed Force (Angkatan Tentera Malaysia) vehicles. Picture and info taken during Hari Belia.
 MILITARY VEHICLE SPECIFICATION – KENDERAAN TENTERA
ADNAN VARIAN IFV 25MM
Specification : Crew Carrier Mech War Section
Capacity : 3 crew + 8 Trooper
Engine: Detroit diesel 6V53T, V6 cylinder, 2 stroke Turbochaged
Transmission : Allison Auto X-200-4A Crossdrive
Gear : 4 Auto forward, 1 Reverse
Weight : 14 Tonne
Dimension : 5260mm length, 2820mm width, 2880mm height
Ground clearence : 431mm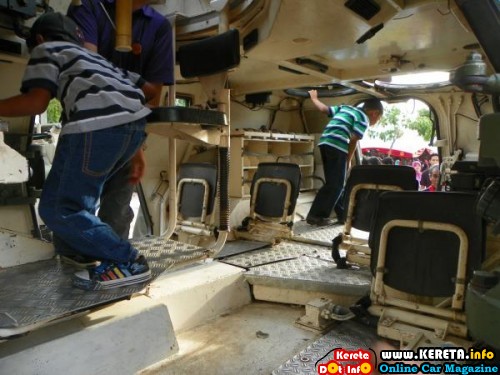 One of military vehicle interior above. View more images and spec after jump.
RPZ CONDOR 4X4 TWIN GPMG
Crew Capacity : 2+8
Weapon : TWIN GPMG 7.62MM + GPMG 7.62MM + 18X76MM GRENADE LAUNCHER
Communication System : VHF + HF
Shield : Front, Side and rear up to 7.62mm caliber
Weight : 9-12.4 tonne
Dimension : 6130mm length, 2470mm width, 2970mm height.
Fround clearance : 470mm
 The Malaysian Armed Forces (MAF, Malay: Angkatan Tentera Malaysia-ATM), the military of Malaysia, consists of three branches; the Royal Malaysian Navy (RMN, Malay: Tentera Laut Diraja Malaysia-TLDM), the Malaysian Army (Malay: Tentera Darat Malaysia-TD) and the Royal Malaysian Air Force (RMAF, Malay: Tentera Udara Diraja Malaysia-TUDM). General (Jen) Tan Sri Dato' Sri Azizan bin Ariffin, is the Chief of Defence Forces, Malaysia.
Please follow and like us: