The MC concept, which will be at the 2008 Paris Auto Show,developed by Maserati Racing Department engineers .The GranTurismo MC Concept is essentially a track-ready version of the GranTurismo S featuring an upgraded 450HP V8 engine, race-spec suspension and brakes, slick tires with 18-inch lightweight alloys and an aerodynamic package that includes a new front splitter, a boot spoiler and rear diffuser.
The engine itself remains essentially unchanged, a high-performance air intake and a new racing exhaust system helping to boost power to 330.9 kw (450 bhp) while the torque climbed to 510 Nm (376 lb.-ft).
Pared down to a lithe 1400 kilograms (3080 lb.), the GranTurismo MC Concept features composite bodywork and a windshield, rear and side glass panels made of Lexan. Even the production fuel tank has been replaced by a 100-liter (26.4 gal.) "carbon safety structure," according to the company.
Two large air intakes flank the production model's classic Maserati grille, providing additional cooling for both the engine and the front brakes, with a new large hood scoop for additional airflow. A new side air vent design, side skirts, wider rear fenders to accommodate larger rear tires and rear diffuser/lip spoiler round out the exterior enhancements.
These changes not only reduce weight but help improve the Maserati's weight distribution for better balance. While the suspension componentry carries over from the production car, new racing shocks and large racing slicks further aid handling prowess. Braking is by steel disc and monobloc racing calipers, sans ABS.
The dashboard shape is about the only thing that remains of the production car's interior, and this is heavily modified, now composed entirely of carbon fiber. A small digital display screen, part of a new data acquisition system takes the place of the traditional gauges; the stylish clock at the top of the center stack remains a nice touch. The MC Concept has been stripped of its rich, leather-clad seats and all other luxurious trim, replaced by a sole racing seat, a Sparco racing steering wheel and an integrated FIA-approved rollcage.
The styling on the GranTurismo MC Concept combines the elegance of a roadgoing car with the aerodynamic touches needed to improve downforce on the track. These elements lend the bodywork a more aggressive look.
With a plastic windshield, no air bags, no insulation, and full roll cage, the featherweight GranTurismo MC would be neither comfortable nor legal to drive on the street. But on the track, it could face the likes of the Ferrari F430 Challenge racer and the Dodge Viper ACR.
While the MC appears on the surface to be simply a design exercise, don't be surprised if Maserati begins selling customer cars to privateer gentleman racers — many of its performance upgrades meet FIA sporting regulations, so this car could be eligible for racing in top-tier sports-car series in both Europe and the United States.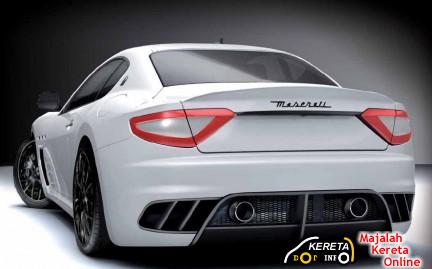 Please follow and like us: