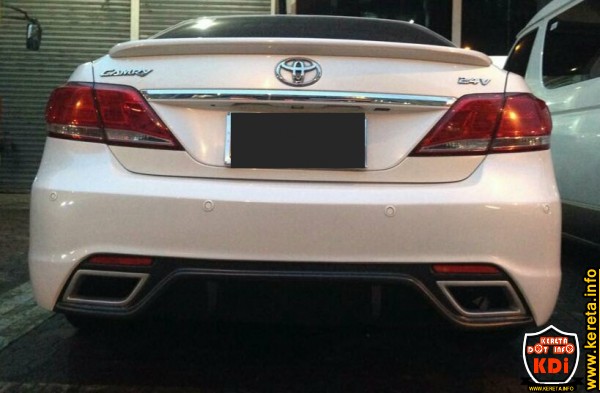 An older generation of Toyota Camry, which we think has a better and proper looks than the current 2014 Camry that looks weird and not prestigious now can be pimped and refreshed by the Camry Aurion modified custom bumper and body kit.
LETS SEE HOW YOU CAN REFRESH A TOYOTA CAMRY WITH AURION CUSTOM BUMPER AND BODY KIT
Info from kdi http://kereta.info:
* Camry Aurion colour = white
* Camry Aurion bodykit / skirting / aero kit = yes.
* Custom bumper Camry Aurion = front + rear bumper
* Camry Aurion headlamp = projector non smoked
* LED day light running lamp / angel eyes = no
* Camry Aurion front grille = custom
* Spot light fog lamp = yes
* Body kit Side skirting for Camry Aurion = yes
* Camry Aurion sport rims = big size with low profile tyres.
* Fully tinted = black window tint film.
* Body sticker / stripe decal = no
* Door visor
* Rear Camry Aurion bumper / skirting = custom design
* Aftermarket Camry Aurion spoiler.
* LED Brake lamp + standard rear tail lamp.
* Custom plate number = front and rear.
* Custom exhaust tail pipe tip.
* Rear bumper diffuser = no
* Modified Camry Aurion interior may include:
+ Leather seat / bucket seat
+ Modified interior lighting LED
+ Audio system speakers full set, woofers, mid bass, amplifiers.
* Camry Aurion Modified engine bay, performance stuff / gadget
———————————————-
Sila kongsikan pandangan anda mengenai Camry Aurion , body kit modification, diy, gadget, interior mod (modifikasi), quality / reliability, test drive reviews (pendapat pandangan pandu uji) , spare parts, masalah / problems, technical issues, tuning, best cheapest (price rm / hargamurah) car accessories, tyres (saiz tayar) sport rims 15 16 17 / 18 inches.
Tagged as: Modified Camry Aurion, Camry Aurion specification, bodykit Camry Aurion, sport rim, Camry Aurion, Camry Aurion malaysia,
Please follow and like us: