2010 TOYOTA RAV4 EV CONCEPT
Toyota RAV4 EV Concept released at LA Auto Show. Good performance its which added a major powertrain option, along with minor feature and cosmetic changes. The demonstration vehicle weighs approximately 220 pounds more than the current RAV4 V6 yet it will accelerate from zero to sixty nearly as quickly.
The Toyota is currently testing is powered by a lithium metal oxide battery with useable output rated in the mid-30 kwh range. However, many decisions regarding both the product, as well as the business model, have not been finalized. Battery size and final output ratings, as well as pricing and volume projections of the vehicle Toyota plans to bring to market in 2012, have not been decided.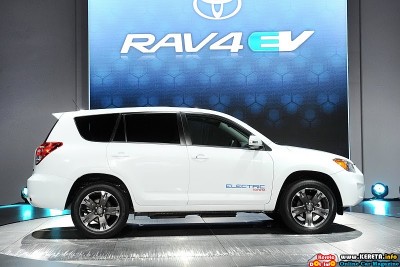 The Toyota RAV4 EV received several distinct exterior styling changes including a new front bumper, grille, fog lamps and head lamps. New EV badging and the custom "mutually exclusive" paint color, completed the transformation. The interior received custom seat trim, multimedia dash displays, push-button shifter and dashboard meters. The RAV4 platform brings a 73-cubic-foot cargo area with rear seats folded down, no cargo space was lost in the conversion to an electric powertrain.
Toyota's comprehensive technology strategy is a portfolio approach that includes a long-term commitment to hydrogen fuel cells, plug-in hybrids and battery electrics all driven by the further proliferation of conventional gas-electric hybrids, like Prius, as its core technology.
2011 HYUNDAI ELANTRA
2011 Hyundai Elantra revealed the US-spec version at LA Auto Show. It powered by a 1.8-liter Nu engine backed by a Hyundai-developed 6-speed transmission or a 6-speed manual, the Elantra boasts a 40 mpg highway, and 29 mpg city fuel ratings on any and every model.
2011 Hyundai Elantra offer the car's wheels will range from 15 to 17 inches, depending on the packages selected, while all models will get the 148-horse / 138 lb-ft engine that's cleaner than some hybrids. Elantras in some states will be rated at 145 horsepower and 130 lb-ft of torque while earning the right to be classified as PZEVs (Partial Zero Emission Vehicles).
In interior passenger also can enjoy with equipment is available includes: a touchscreen nav system, iPod integration, segment-busting heated rear seats, and a 172-watt or 360-watt sound system, making the Elantra one potentially decked-out looker of a small car.
Please follow and like us: