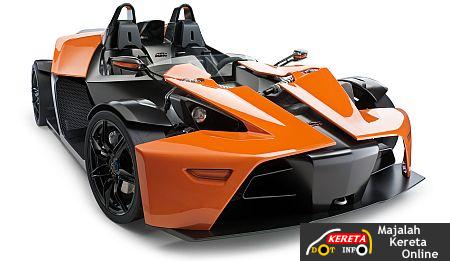 KTM has almost finished the first prototype of its futuristic KTM X-Bow roadster. The model, to be equipped with a four-cylinder Audi engine, producing as much as 220 horsepower and equipped with either a six-speed manual or the famous DSG gearbox, will feature acceleration time of well under four seconds. There may also be much more powerful model, featuring 300 hp concept car and even better dynamics.
Like many other super-lightweight roadsters available, the KTM X-Bow will have no windshield but will be sold with a pair of specially designed helmets instead. The helmets will not provide the driver and a passenger with adequate crash protection, but will do to cover their owners from water and dust particles.
A scale model of 1:2.5 has already been built for wind-tunnel testing. Leftlane News is reporting that the model "corresponds in almost every detail" to the actual roadster.
KTM currently plans to manufacture 100 units and sell them through its dealership network at a starting price of €40,000. The manufacturing process will be outsourced to Italian race car automaker Dallara.
If the X-Bow is successful enough, KTM will later start mass-production of the cars on its own facilities in Austria, producing around 500 roadsters per year.
KTM X-Bow production will begin early next year
The Austrian KTM company has announced that it plans to start producing its positively acclaimed KTM X-Bow (Crossbow) vehicle as early as in the beginning of the 2008. Well, it may look like an eternity for some guys who just can't wait to put their hands on the little sports car, but it's anyway really good, considering average birth level rates in the exotic cars industry.
Although it was previously announced that the first stage of manufacturing will be outsourced to the Italian Dallara company, which was supposed to produce first 100 units of the KTM X-Bow, the plans have changed eventually. It is now reported that the whole manufacturing process will be granted to the local Magna Steyr, which has a long history of producing vehicles for such incumbents as Audi, Fiat, Chrysler, Mercedes-Benz (JFYI, the 4Matic AWD transmission was developed by Magna Steyr's engineers), Saab, VW and BMW.
The first vehicles will be delivered to customers in February, 2008. By this time KTM has about 600 orders for the KTM X-Bow and hopes to produce around 500 vehicles a year in the nearest future.
The Austrian motorcycle manufacturer KTM is working on a seriously upgraded version of its successful X-Bow (Crossbow) race car. If anything goes as planned, soon we will see an X-Bow R with a 30 percent more powerful engine and a set of amenities making the car more comfortable for all-weather driving.
As we have already reported a year ago, the KTM X-Bow R will be equipped with the same 261hp, 2.0-liter FSI engine currently installed in the Audi S3 hot hatchback. The list of options will also include a full height windscreen and a removable hardtop so that the exotic car can be driven in rainy conditions.
The car will presumably be unveiled at the British Motor Show next week.
source : edited from autoreview belproject
Please follow and like us: