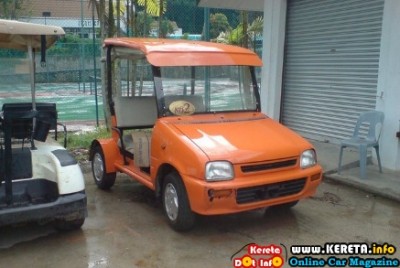 New Contribution by Kamel Hamdan
Kamel Hamdan's message : Baru-baru ni saya ada mengikut pakcik saya ke kelab golf.Pakcik saya kata harga Golf caddy car ni mahal.betul ke?.Semasa mencari maklumat saya terjumpa Kancil Caddy ni.Mungkin kita bole gunakan Kancil sebagai Golf caddy car.
Iz: Thank you Kamel Hamdan for sharing this topic with us.Yes that's true.Golf caddy cart/ buggy is very expensive.New vehicles in our survey ranged from US $4,700  to US $15,000.The average golf cart – electric, with a top and windshield, goes for between US $5,000 and US $7,000. This will get you a basic electric cart and some useful add-ons such as a cooler or club covers.While for used vehicles, the price is between US $2,500 and US $5,000. If you're interested in used vehicles, make sure you get a reconditioned cart from a dealer.
* Note US $ 1 = RM 3.09
Buggy/Golf Carts
Below are some price that we got from our survey.We need to have the minimum order to get the cheaper price.So a Kancil maybe a good choice. =)
Gas golf cart GF-005+1
Unit Price:
US $17,299.00 (RM 53, 453) / piece
Min. Order: 3 pieces
Free Shipping  to  Malaysia Via UPS Express Saver
$17,299.00 x 3 + $0.00 = US $51,897.00 (RM 160, 362)
———————-
Gas golf cart with one seat for 2 passengers GF005
Unit Price:
US $10,188.00 (RM 31, 481) / piece
Min. Order: 16 pieces
Free Shipping  to  Malaysia Via UPS Express Saver
$10,188.00 x 16 + $0.00 = US $163,008.00 (RM 503, 695)
———————-
Single electric golf cart, GF-1001
Unit Price:
US $3,000.00 (RM 9270)/ piece
Min. Order: 22 pieces
fFree Shipping to Malaysia Via DHL
$3,000.00 x 22 + $0.00 = US $66,000.00 (RM 203, 940)
Please follow and like us: