In? No.. Va!!! Yup, it is an extremely modified Toyota Innova MPV 7 seater. The picture captured in India shows two "crazy" Innova owners who really wants to be different. Not just a little, they eager for major exterior modification. The orange brownish Innova has been transformed to the luxury MPV Mercedes Benz R500 and the white Innova being stretched to be a Limousine.
IS IT AN IN_NO_VA? – HEAVILY MODIFIED INNOVA LIMO + MERCE
Nice modification.. but the rims are still standard. Need to put 18″ VIP rims on it.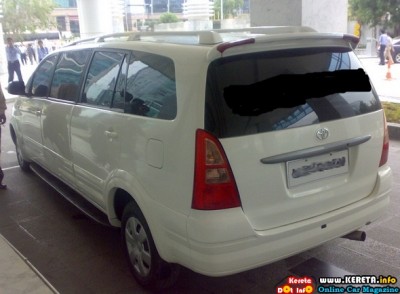 The bumper also is still in standard condition. The Innova is stretched to 5 feet longer with addition of the center part between front and rear door.
Merce wanna be.. Total transformation including the bumper, rear lamp, 3rd row passenger cabin glass, rear merce emblem and stylish sport rims.
The front part includes Merce front grille, emblem, headlamp, hood and bumper.
What an INNOVA!
Please follow and like us: