Last Wednesday, Hyundai Sime Darby Motors (HSD) Malaysia had launched the Hyundai i30 at the 1-Utama Shopping Centre Petaling Jaya, Selangor.Hyundai like to launch their car at the shopping centre.Last year, in August 2008 Hyundai launched the i10 at the Cineleisure, The Curve Damansara Perdana.That time we participated in the lucky draw competition but we have no luck that day.
You can view it again by click the link below.
http://kereta.info/new-best-fuel-efficiency-car-hyundai-i-10-successfuly-launched-at-cineleisure-the-curve-damansara-perdana/
HYUNDAI i30 LAUNCHED IN MALAYSIA AT THE 1-UTAMA SHOPPING CENTRE.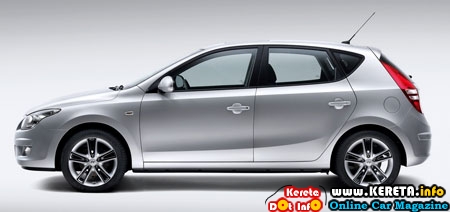 For Hyundai i30, the new hatchback the prices are ranging from RM92,388 to RM112,888.Below are the details where 3 variants are offered by Hyundai.
Hyundai i30 1.6 (M) – RM92,388
Hyundai i30 1.6 (A) – RM97,888
Hyundai i30 2.0 (A) – RM112,888
The Hyundai i30 is a C-segment contender designed by their European center, Hyundai's Engineering & Technical Centre in the Germany for the European market.The development of this model in Europe has given the i30 to be the model that won many heart.The i30 is a C-segment contender against rivals such as the Mazda3, Ford Focus and Peugeot 308.
Two choice of engines available – 1.6 litres and 2.0 litres. For 1.6 litres engine, it produces 121 PS at 6200rpm and 154Nm of torque at 4200rpm, while the larger 2.0 litres unit produces 143 PS at 6000 rpm and 186.3 Nm of torque at 4600 rpm.Both engine are 4-cylinder units with 16-valve DOHC cylinder heads and continuously variable valve timing (CVVT) as well as a variable inlet manifold.
The car is said to run up to 19.6km/litre for the 1.6 litres manual transmission engine and or  9.7 kms/litre for the 2.0 litres engine driven in urban conditions.These figure is a very attracting to customer.
Hyundai i30 Wheels.
Hyundai i30 1.6 (M) 185/65R15
Hyundai i30 1.6 (A) 205/55R16
Hyundai i30 2.0 (A) 225/45R17
The car has an overall length of 4245 mm and overall width of 1775 mm on a generous wheelbase of 2650 mm with MacPherson struts at the front and a multi-link suspension setup at the rear.The i30 will be in showrooms August onwards.
Hyundai i30 Dashboard – looks like the European had great influence on this car.
Hyundai i30 seats.
Please follow and like us: