If you've decided to buy a used car, you've already made a smart decision. You can get a car that's as good as a brand-new car, without suffering the depreciation that wallops new car buyers. Used cars — even only one year old — are 20 to 30 percent cheaper than new cars.
But there are other good reasons to buy a used car:
Buying a used car means you can move up in class
You'll save money on insurance
The glut of cars coming off lease makes creampuffs easy pickings
Unlike with new cars, which are priced to the penny, bigger bargains are possible for the smart used-car shopper
HOW TO BUY A USED CAR? GUIDE, TIPS AND TEST DRIVE TO BUY SECOND HAND CAR FROM USED CAR DEALER
Furthermore, the classic reasons to avoid used cars — lack of reliability and the expense of repairs — are less of an issue. Consider these related thoughts:
Used cars are more reliable today than ever before
Many used cars are still under the factory warranty
Most new car manufacturers now sell certified used cars, which include warranties
The history of a used car can easily be traced using the VIN number
Financing used cars has never been easier — leasing is even available through some banks
The money saved by buying a used car can be invested or saved to use on items which appreciate — like real estate — instead of cars, which depreciate
If you buy from a private party, the negotiation process is less stressful
True, you can't be the first one on the block with the trendiest vehicle. And there is the lack of new car smell. But your consolation will be the knowledge that you got a great deal and made a solid decision. So read on, as we guide you along the road to used-car happiness.
Used Car Buying TIPS Made Easy with these 12 Steps
1. Do Your Homework
Identify what you want before going to a used car dealer ship. Since your choices may be limited by what you can afford, determine your monthly costs before you do anything. Make a list of expenses to own the car including insurance, maintenance, gas, and other associated costs. Does it fit into your monthly budget?
2. Go With A Brand Name You Can Trust
Choose a brand name dealer that offers quality certified used cars and backs their products with either a service contract or warranty. Many people fear having a bad experience at a dealership. While many indignities still prevail in some dealerships most brand name dealers usually recognize the importance of treating customers with respect. It's your responsibility to find a dealer that will treat you with the respect you deserve.
3. Trust Your Instincts
Trust your instincts and apply the years of shopping experience and research skills you've honed from other purchases to the sale of a car. You don't need to know how an engine ticks to buy a car. Trust your instincts about the salesperson and dealership.
4. Be Prepared To Walk Away
Have the car checked out by a reputable mechanic. A reputable dealer will have no problem with you bringing in your own mechanic to check out the car. They may not let you take it off the lot to do so but most will let you bring someone to the lot. If they don't, assume something is wrong and walk away no matter how much you love the car.
5. Shop Around — Be Picky!
Once you identify what you want and can afford, locate the dealers who carry the product. Make a list of questions like the year of the car? Keep in mind that the higher the mileage the more worn the car and its parts. Has it undergone any structural repairs? Has it ever been in an accident? Are they willing to show you its historical maintenance records? Don't' rush into anything — even if you think you've found the car of your dreams.
6. Take It For A Test Drive
Never buy a car without taking it for a test drive. If they say no then walk away. Reputable dealers will allow you to go for a test drive and will accompany you to answer questions. Take the vehicle for a test drive on a route you normally take to work, for example, to get a good feel of how it will handle over the roads you drive every day. One of the tricks of used-car test drives is that sales people often choose a route that is quite smooth making the car feel perfectly fine. So don't settle for a test drive around the block.
7. All Sales Final — Take Your Time
In most used car cases, if you buy from a private party or a no-name corner dealership, you own it and all its problems, once you leave. So take your time before making a commitment. Hint: Returned leased vehicles make excellent buys as they have low mileage and dealerships usually inspect them bumper-to-bumper in preparation for sale. They often come with warranties too.
8. Finding the Right Retailer — Build A Relationship
Establish a friendly relationship with your dealer that you trust so when you return for maintenance you'll feel confident about it. Building a positive long-term relationship is to the dealer's advantage too. Happy customers recommend their dealership to friends and family. They don't want unhappy customers who will bad mouth the dealership.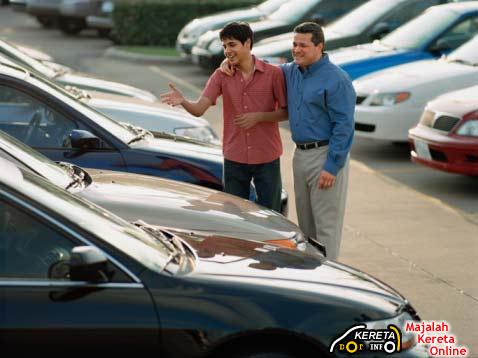 9. Seek Out Salespeople Who Don't Use High Pressure Sales Tactics
If a salesperson is using high pressure sales tactics, your red flag should go up. Today's quality brand name cars practically sell themselves. Sales people that use high pressure usually have another agenda. Walk away. If you're not in control, getting your questions answered, and feeling comfortable, then this is not the place to make your sale.
10. Search the Net for Information
The Internet is a beautiful thing. You can do all your research at home. Just search the web for things like how to inspect a used car, auto reviews, leased vehicle sales, etc. Most importantly, do a vehicle identification number check (VIN check). There are several online services that will provide a complete history of the vehicle for a small fee.
11. Never Settle & Exercise Your Right To Change Your Mind
It's your money! Do what you want, not what someone else wants you to do. You're the one who has to live with this car. Never accept any deal that's a final sale. Be sure the door is left open to bring the car back in for maintenance and repairs. Don't settle for anything less than what you really want unless it's a compromise you can live with. Explore their warranties, and research extended warranties. Check out their service department.
12. Read the Fine Print!
And always, and we do stress always, read the fine print before signing anything and what you don't understand, ask someone who is knowledgeable about contracts.
Test Driving A Used Car
Nothing is quite as exciting as purchasing a new car. Even if it's a "used" new car. Don't get too caught up in the pretty shiny metal and chrome, it's what's under the hood that counts. Take a serious test drive before you make a decision. Used cars bought from a private owner don't have any warranty with them. You don't want to buy someone elses problem.
Do you homework. There is a lot of help available on line when you're purchasing a used car. You'll have the vin or vehicle identification number. With this number you can pull up a vehicle history through your state. Do a search for the model and year of your car online. Were there any specific complaints or call backs on this particular model?
The first place you should test drive this car is to your trusty mechanics shop. With a bit of notice he'll be glad to set a bit of time aside to go over the car with you. He'll take a look at your car with a keen and unprejudiced eye.
Take with you whatever service records are available on the car, these will help your mechanic understand the vehicles past. Your mechanic will check the hoses and belts and condition of the oil. These are easy fixes if they need changing or replacing. Your mechanic will check the radiator fluid for coolant level and to make sure the fluid is going to protect in severe cold conditions. He'll see how much oil, if any is present on the engine. Perhaps the car has been burning oil. He'll check the transmission fluid.
Another thing he'll check is the lights, inside on the dash, and outside to make sure they work. He'll check shocks, breaks and tires and alignment.
He'll take a look at the body. Is there any rust underneath on the frame? Does all the paint match, or has the car been repainted? Is everything in alignment? Do the doors open and shut properly?
Let your mechanic take the car out for a test drive. He may be able to pick up subtle things, perhaps a shutter or hesitation, or hear a sound that you may not. His is the best advice you're going to get in this situation.
Please follow and like us: