HONDA STEPWAGON 2.0GL
The Stepwagon is a real multimode van. Ingenious folding centre and rear seats have made all Stepwagons into both excellent people carriers and capacious load carriers
HONDA STEPWAGON 2.0GL -STEP IN
STEP IN
Welcome to the world of Honda Stepwagon (StepWGN) – it's not compact, but spacious for every driver's utility needs. The "StepWGN" offers a low floor, low centre of gravity platform. Combined with a generous cabin length of 2775 mm and a compact engine compartment, the "StepWGN" is a spacious people-mover that's easy to maneuver.
HONDA STEPWAGON 2.0GL – STEP AWAY
STEP AWAY
With a second glance at the "StepWGN" and be amazed by the practical features that afford
driver and passenger comfort and safety.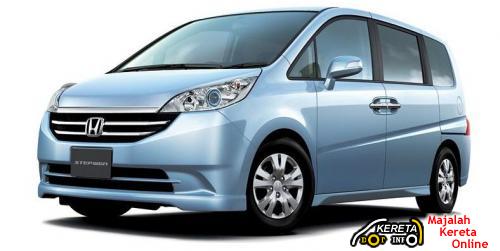 HONDA STEPWAGON 2.0GL – STEP UP
STEP UP
Utilizing an economical and environmentally-friendly DOHC i-VTEC engine, the "StepWGN" combines Honda's Variable Valve Timing and Lift Electronic Control (VTEC) with Variable Valve Timing Control (VTC) that optimizes response to engine load. The 2.0 litre DOHC -VTEC engine provides quick acceleration from low speeds.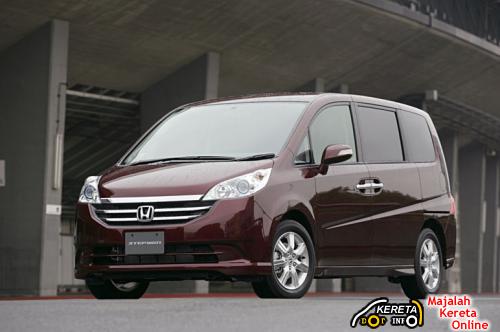 HONDA STEPWAGON 2.0GL – STEP AROUND
STEP AROUND
Designed with practical functionality in mind, the "StepWGN" features an ergonomic oval design that provides clear views all around for passengers and driver. injury to pedestrians as well.
HONDA STEPWAGON 2.0GL – STEP CLOSER
STEP CLOSER
The basic package includes digital speedometer; front and rear air-conditioner; standard audio speakers, dual easy closer doors and front armrests. A well-thought-out passenger side power sliding door also comes standard.
WATCH YOUR STEP
The "StepWGN" is designed with space conscious users in mind. Practical fold and stow away seats make this car a practical vehicle for a wide variety of everyday activities.
SAFER STEPS
Built with a crash compatibility body, the "StepWGN" offers safety for the driver, passengers and other road users. Upon full frontal collision the "StepWGN's" upper frame and lower members distribute and absorb the energy of impact, dissipating it across the front pillar and floor. Additionally, use of impact-absorbing structures help minimize injury to pedestrians as well.
HONDA STEPWAGON 2.0GL SPECIFICATIONS
ENGINE
Engine Model: K20A
Type     :     Water-cooled Inline 4-cylinder 2.0L DOHC i-VTEC+PGM-FI
Displacement (cc)     :     1998
Bore x Stroke (mm)     :     86.0 x 86.0
Compression Ratio     :     9.6
Max Output (Kw-PS/rpm):     114 (155)/6,000s
Max Torque (Kw-PS/rpm):    118 (19.2)/4,500s
Compression Ratio    :     9.6
Fuel Consumption (Km/L)/10.15 Mode:     12.2
TRANSMISSION
Electronic control 4-speed (auto) with ìecoî mode
STEERING
Rack and Pinion
FUEL SYSTEM
Electronic Fuel Injection
BRAKES
Front     :     Ventilated Disc Brakes
Rear     :     Disc Brakes
SUSPENSION
Front     :     MacPherson strut type, Independent, Coil Spring
Rear     :     H-type Torsion Beam, Independent, Coil Spring
TYRES:     205/60R16 (92H)
SEATING CAPACITY:    8
DIMENSIONS & WEIGHT
Length (mm)     :     4630
Width (mm)     :     1695
Height (mm)     :     1770
Wheelbase (mm)     :     2855
Vehicle Weight (KG)    :    1,350
Fuel Tank (litre)     :     57
Min Ground
Clearance (mm)     :     155
Tread-Front (mm)     :     1470
Tread-Rear (mm)     :     1460
Min turning
Radius (mm)     :     2650
HONDA STEPWAGON 2.0GL ACCESSORIES
1 Factory Fitted Body-Kit (front/side/rear-bumper/tail-gate)
2 Factory 16″ Alloy Wheel
3 HID Low-beam Head Lamp with Auto-leveling
4 Front Fog Lamp
5 Single Exhaust Tail Pipe
6 Immobilizer & Security Alarm
7 Honda Smart Key System
8 2-side Power Sliding Door
9 Black Color Interior
10 Tinted Glasses
11 Carpet Mat
12 Number Plate Holder
13 8-seater
14 Front Seat Armrest (center side)
15 2nd-row Seat Center Armrest
16 Driver-seat Manual Height Adjuster
Specifications quoted above are subject to change without prior notice.
HONDA STEPWAGON 2.0GL PRICE
PRIVATE (RM) 180,000.00
Road Tax (1 year) 439.20
Registration Fee 300.00
Ownership Claim Fee 50.00
Handling & Inspection Fees 150.00
Number Plate 80.00
OTR PRICE WITHOUT INSURANCE 181,019.20
Please follow and like us: