GM STATEMENT ON THE CHEVROLET CRUZE MODEL
General Motors announced a new recall involving 154,112 units of the 2011 model year Cruze, pretty much all models built for North America since production started in summer 2010.
The reason for this action is related to a steering issue as well, with GM saying it wants to check that the steering shaft was properly installed. The company didn't say whether or not the two recalls are related, but added it will use the latest one action to check on another issue that might affect some 120,000 models with automatic transmission. In this case, GM wants to verify whether the transmission shift linkage was properly installed.
GM stressed in a statement that "very few" of the recalled models should have both problems and that it has already made quality process changes to make sure neither error occurs again. According to a GM spokesman, the steering shaft issue was discovered when a customer lost steering control in a parking lot, without being involved in any type of accident. As for the automatic transmission problem, the carmaker says it was discovered when customers brought in their cars under warranty.
The company added that no accidents or injuries related to the Cruze recall have been reported. Built in Lordstown, Ohio for the U.S. and Canadian markets, the compact sedan was GM's second best selling vehicle in April.
2011 FIAT BRAVO MYLIFE
Bravo compact model has received a new version, called "MyLife" that comes with some minor styling updates, additional standard features and more competitive prices. On the outside, the Bravo MyLife sports a glossy black finish for the upper and lower grilles, B-pillars and fog light framings, plus new 16-inch two-tone wheels and chromed door handles and grille borders. The Golf-sized hatchback is available in two colors, Distinct Grey and Superb Red.
The new Fiat Bravo MyLife gets most changes concern the new standard equipment such as Fiat's Blue&Me infotainment system with Instant Nav satellite navigation system, which also integrates a Bluetooth phone connection with SMS voice reading function and a USB port for connecting external music devices. The navigation system has a 6.5-inch display and is offered with a map containing all European countries. All functions of the infotainment system can be controlled by voice or through buttons on the steering-wheel.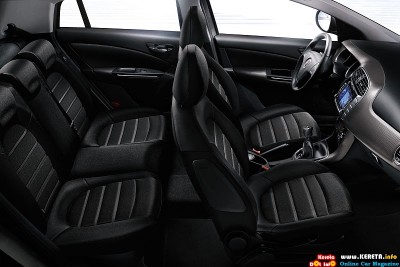 Also equipped with standard features include manual air conditioning, 6 airbags, ESP with Hill Holder function, fog lights with cornering function, leather covered steering-wheel and gearshift lever, plus electric windows.
Please follow and like us: