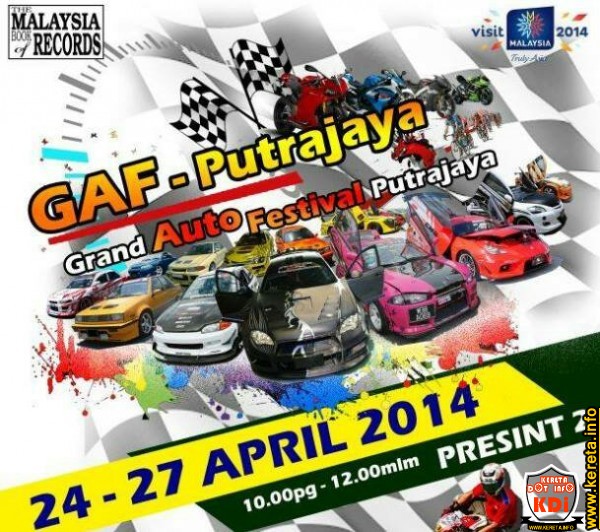 Here we share the details of GAF autoshow competition and Grand Auto Festival event this coming April 2014 in Putrajaya.
GAF AUTOSHOW PUTRAJAYA – GRAND AUTO FESTIVAL CAR CLUB GATHERING THIS APRIL
24 APRIL~27 APRIL 2014
26 April / Sabtu-> CAR SHOW & Car Club Gathering
27 April (Ahad) SHOW MOTOR & Gahtering
Tempat: Persint 2,3
012-200 7958 Rizalman
01) Autoshow Final KW Mega Gathering.
02) Autoshow Motor.
03) Car Club Mega Gathering.
04) Motor Club Gathering.
05) Basikal Club Gathering.
06) Stunt Motor.
07) Lucky Draw Car Gathering.
08) Konsert Otai Rock.
09) Konsert Dangdut.
10) Bicara bersama Ustaz.
11) Hijrah bersama artis.
12) Battle Of The Band.
13) Karoke.
14) Supadupa.
15) Pinball.
16) Basikal.
17) Poket Bike.
18) Pertandingan Melukis @ Mewarna.
19) Demo Audio.
20) Demo Split Fire
"Photographer Welcome Invite"
-> Kepada pemenang Autoshow KW Mega Gathering (Round:1,2,3,4) Top 5 setiap kategori anda boleh menghibungi saya sekarang untuk bertanding ke peringkat Akhir.
-> Hadiah Autoshow final No1 akan menerima RM800 atau RM1,000 dan sampai tempat kelima
-> Pemenang Car Club Gathering, kereta kelab yang paling banyak register dan bawak kereta.
(Penjurian car club, krew akn mengira setiap kelab yang hadir masa kereta paking, tapi berpandukan berapa kereta yang berdaftar)
-> Register Car Club Gathering, untuk setiap sebuah kereta saja hanya (1 kereta 1 owner shj) RM15 akan menerima T-Shirt.
-> Hadiah Car Club Gathering No1 akan menerima RM2,000 atau RM3,000 bergantung pada penyertaan kelab dan sampai tempat kelima.
* Tarikh tutup Register Car Club Gathering sebelum 30 Mac 2014, untuk dapatkan saiz baju yang betul, minta kerjasama kpd semua kelab kereta, tlg daftar awal atau sebelum 30 Mac 2014.
* Kerjasama dengan Perbadanan Putrajaya.
Please follow and like us: