Car modification has become as a hobby for some Malaysians.Compare to the other country, Malaysia is one of the country which we can get all the modifications parts easily.Everywhere there will be an accessories shops or workshops that can offer best price and also best design that can fulfil our taste.So, here we want to suggest some modifications ideas for you all.This time from the Fuza Design.Today we will post about the Fuza Design for the Perodua Viva, Myvi and also Proton Gen2.
FUZA DESIGN PERODUA VIVA, MYVI AND PROTON GEN2 > FUZA VIVA, FUZA MYVI & FUZA GEN2.
Fuza Design Perodua Myvi..This Myvi looks like a Toyota Passo from the rear.Smart and nice.
Black and white combination of colour.Make it looks elegant and a smart car.
Simple side skirt from Fuza Design.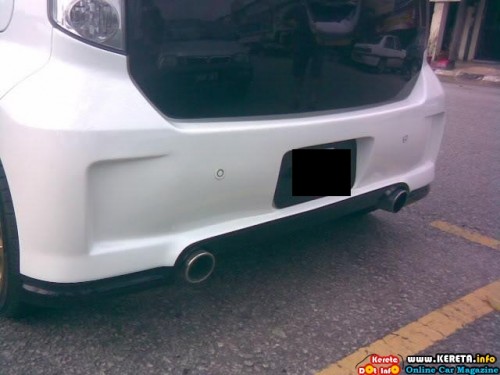 Perodua Viva GT style with the Fuza Design.
Gen2 Fuza Design Front Bumper.
All of these design you can get from the Fuza Design.Below are the details.
FUZA DESIGN AUTOMOTIVE STYLING.
55, Jalan Cokmar 1, Taman Mutiara Bukit Raja, Off Jalan Meru,
41050, Klang,
Selangor Darul Ehsan,
Malaysia
Tel: +603-3343 1080
Fax: +603-3343 1090
E-mail: [email protected]
Please follow and like us: