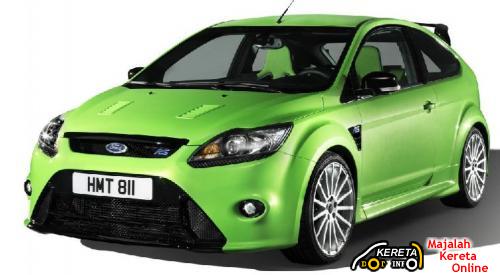 Based on the same core as the Focus ST, the RS adds power, handling and appearance modifications to improve the car's ability to put its power to the ground and direct it down the road, track or gravel path. To keep the potent engine from creating unmanageable torque steer, the engineers designed the car with a unique suspension called the 'RevoKnuckle,' which enables the car to keep the intended direction of travel even under heavy throttle.
This works in conjunction with a Quaife automatic torque biasing limited-slip differential. Combined, the Focus RS eliminates the need for AWD and the attendant weight gains of the extra differential and driveshafts. A Quaife automatic torque-biasing limited-slip differential keeps the traction steady even on less-than-ideal surfaces.
The Focus RS is equipped with an aggressive bodykit that includes a new styled front bumper,a pair of bonnet vents, a twin-element black roof spoiler echoing RS models of the past and a newly designed rear bumper that incorporates a large venturi tunnel and two chromed exhaust tail pipes.
According to Ford's engineers, the improved 2.5 Turbo is targeting a power output of 300hp (224kW) 302lb-ft (410Nm) . This car should be able to accelerate from 0-100km/h (0-62mph) in less than six seconds and reach a targeted top speed of more than 260km/h.Changes to the standard Duratec 2.5L block include unique camshafts, a revised cylinder head and gasket and new intake and exhaust manifold system.
The widened front and rear quarter panels have been revised to incorporate wider wheel arches that house 19-inch alloys, wrapped in 235/35 low profile Continental tires.The Focus RS also boasts uprated brakes, with 336mm ventilated front discs and 300mm rear discs. Other notable features include the styling details highlighted in gloss 'piano black', the RS-badged vents behind the front wheel arches and the two 80's RS-style bonnet louvers.
Ford has also confirmed that customers will have three colour options from launch, including the vibrant green seen here, as well as blue and white. Customers will also be able to match the interior trim with the exterior color or pick a full black leather option. Other features of the cabin include bi-colour Recaro bucket seats, brushed aluminium accents and standard micro-fiber trim. The performance driving environment is completed by three additional gauges from the Focus ST, including a boost gauge, sitting atop the center console and angled toward the driver.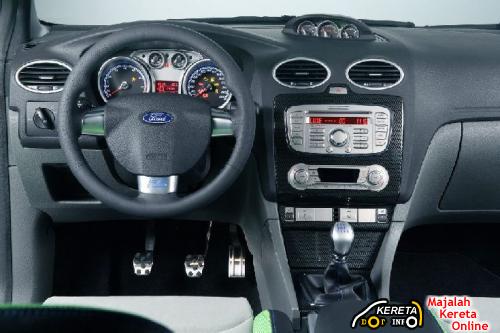 Please follow and like us: