Perodua Eco Challenge 2010 had been held on Saturday, 26 June 2010.In that competition USM and UNITEN teams pocket a cash prize of RM20,000 each. In addition, USM won a further RM3,000 for the being the third best in the Engineering & Design category. UNITEN also secured a double victory with second place in the Engineering & Design category, picking up an RM5,000 cash prize for their troubles. Universiti Teknology Mara (UiTM) picked up RM10,000 for securing the top prize in this category.For the 2010 competition, all the 12 team were given a Perodua Viva to be modified or improved for greater fuel efficiency. The competition is base on the innovation and creative mind to modified the car for green environment.
You can view the news about the Perodua Eco Challenge 2010 in the link below.
http://kereta.info/uniten-and-usm-shine-in-perodua-eco-challenge-2010/
FLASHBACK > COLLECTION OF 2009 PERODUA ECO CHALLENGE CAR
For the 2009 season, each institution was given a Perodua MyVi for fuel efficient modification. The challenge – aimed to demonstrate significant improvements in fuel economy and emissions on a MyVi.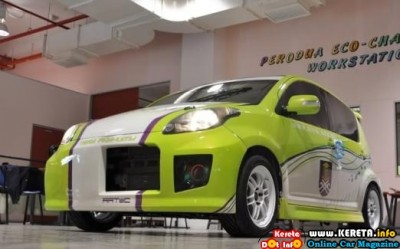 Myvi Artec-FKM from ARTeC (Automotive Research and Testing Centre) FKM UiTM with TRD Sports M bodykit.
'The Fairy Feathers' from UMP.
MyVi from UNISEL.
UTHM with orange MyVi.
Perodua R&D MyVi car.Congratulations to the Perodua R&D team for reaching thier 33lap (31km/l) in their Test Experiment (TEX09).
School of Mechanical Engineering represented USM in the Perodua Eco-Challenge 2009.The team undertook 3 months of sweat and hard work with limited resources in order to prepare themselves for this technical national level competition.
2009 Perodua Eco Challenge Result.
Result:
Automatic Tracnsmission (A/T)
Winner: USM- fuel consumption of 23.5km/liter
1st Runner Up: UNITEN -20km/liter
2nd Runner Up: UiTM – 19.7KM/liter.
Manual Transmission(M/T)
Winner: Polytechnic Ungku Omar – fuel consumption of 25km/liter
1st Runner Up: UMP – 23km/liter
2nd Runner Up: UNISEL -22KM/liter.
Engineering Design and Presentation
Winner: USM
2nd: UiTM
3rd: UNITEN.
Please follow and like us: